How to

Identify and Measure Fittings
Pipe size is an industry designation, not the actual size. View information about how to measure threaded and unthreaded pipe and pipe fittings.
Clamps for
Claw-Clamp

High-Vacuum

Fittings for Stainless Steel Tubing
Connect claw-clamp high-vacuum fittings for an airtight seal. For a complete connection, you'll need four clamps and a ring (sold separately).
Double-claw clamps attach to the grooves on the fittings.
For technical drawings and 3-D models, click on a part number.

For
Tube
OD
For
Flange
OD
Trade
Number
High Vacuum
Connection
Type
Material
Bolt
Material

Max.


Vacuum
Each

Double Claw

2

1/2

", 3", 4"
3.74", 4.33", 5.12"
63, 80, 100
ISO-K
Aluminum
18-8 Stainless Steel
1 × 10 -9 torr @ 72° F
0000000
00000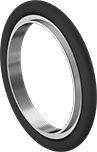 Ring
For
Tube
OD
For
Flange
OD
Trade
Number
High Vacuum
Connection
Type

O-Ring

Inner
Ring

Max.


Vacuum

Max.




Temp.,




°F

Each
2

1/2

"
3.74"
63
ISO-K
Viton® Fluoroelastomer Rubber
304 Stainless Steel
1 × 10 -9 torr @ 72° F
400°
0000000
000000
3"
4.33"
80
ISO-K
Viton® Fluoroelastomer Rubber
304 Stainless Steel
1 × 10 -9 torr @ 72° F
400°
000000
00000
4"
5.12"
100
ISO-K
Viton® Fluoroelastomer Rubber
304 Stainless Steel
1 × 10 -9 torr @ 72° F
400°
0000000
00000
High-Polish

Gasket Fittings for Stainless Steel Tubing
For Use

With:

Air,

Dairy,

Water
Temperature

Range:

See Gaskets

Tubing:


Inch Butt-Weld Fittings and Quick-Clamp

Fittings:

Use with welded

304/304L

or

316/316L

stainless steel that meets ASTM 269 or ASTM 27
Metric Butt-Weld

Fittings:

Use with welded or seamless 316 stainless steel
Specifications

Met:


304 Stainless Steel

Adapters,

Caps,

and

Nuts:

3-A Certified

63-04




Gaskets:

See table
For
Tube
OD
ID
OD

Thick.

Temp.




Range,




°F

Color
Specifications
Met
Each
2

1/2

"
2.340"
2.950"
0.35"
-30° to 200°
Black
__
0000000
00000

PTFE Plastic

2

1/2

"
2.340"
2.950"
0.35"
-100° to 500°
White
3-A Certified 20-27

0000000
0000

316 Stainless

Steel/PTFE

Plastic Blend

2

1/2

"
2.340"
2.950"
0.32"
-350° to 550°
Gray
3-A Certified 20-27, FDA Compliant 21 CFR 177.1550, USP VI Certified
0000000
00000