How to

Identify and Measure Fittings
Pipe size is an industry designation, not the actual size. View information about how to measure threaded and unthreaded pipe and pipe fittings.
High-Polish

Gasket Fittings for Stainless Steel Tubing

For Use

With:

Air,

Dairy,

Water
Temperature

Range:

See Gaskets

Tubing:


304 Stainless

Steel:

Use with welded

304/304L

or

316/316L

stainless steel that meets ASTM 269 or ASTM 270
316 Stainless

Steel:

Use with welded or seamless 316 stainless steel
Specifications

Met:


304 Stainless Steel

Adapters,

Caps,

and

Nuts:

3-A Certified

63-04




Gaskets:

See table
Join these fittings with a threaded nut and a gasket for a secure connection that grants you easy access to your line. Also known as bevel seat fittings, the fittings are beveled to fit snugly around the gasket, creating a vibration-resistant seal. Fittings are polished to a smooth finish on the interior to prevent product buildup.
316 stainless steel fittings have excellent corrosion resistance.
Note: For a complete connection, you'll need a threaded straight adapter, an unthreaded straight adapter, a gasket, and a nut (all sold separately).
For technical drawings and 3-D models, click on a part number.
Straight Adapters, Unthreaded Gasket × Butt Weld Tube

Gasket
Connection
Butt
Weld
Connection
Wall


Thick.

Material

Max.


Pressure
Each
41mm
1

1/2

"
0.809"
316 Stainless Steel
580 psi @ 72° F
00000000
000000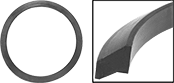 For Tube
OD
ID
OD

Thick.

Temp.




Range,

°F

Color
Each
41mm
42.000mm
52.000mm
5mm
-30° to 200°
Blue
0000000
00000