Organize all your 3D printing tools and supplies in one mobile workstation. These carts are sized to fit most desktop printers and have plenty of storage for filaments, cutters, brushes, and coatings. Four swivel casters let you steer your printer where you need it, and wheel brakes keep it in place while you work.
Style A carts have four open shelves to keep supplies handy or display finished projects. Keep laptops and other equipment safe in the four lockable drawers.
Use the six hooks on style B carts to store filament spools. The lockable cabinet has removable shelves so you can make room for large items.
Style A—With Four Drawers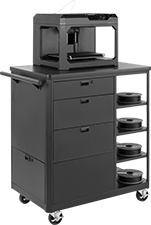 A
Cap.,




lbs.

Wd.

Dp.

Ht.

Drawer


Cap.,




lbs.

No.


of

Cap.,




lbs.

Profile

Wd.

Dp.

Clearance


(Location)

Lock
Included
Wheel
Configuration
Brake
Type
Caster
Mount
Type
Assembled
or
Unassembled
Each

Plastic Solid Wheels

200
36"
24"
42"
20 (Front)
20 (Front)
20 (Front)
40 (Side)
4
40
Flush
11

1/2

"
22

3/4

"
8

3/4

" (Top)
7

1/4

" (Top)
7

1/4

" (Bottom)
7

3/4

" (Bottom)
Yes
Four Swivel Casters
Wheel Brake

Replaceable
Assembled
000000
0000000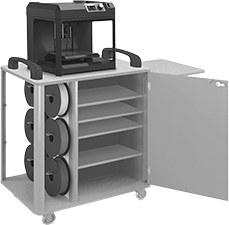 B
Cap.

Wd.

Dp.

Ht.

No.


of

Cap.

Profile

Wd.

Dp.

Clearance


(Location)

Lock
Included
Wheel
Configuration
Brake
Type
Caster
Mount
Type
Assembled
or
Unassembled
Each

Rubber

Tread-on-Core

Wheels

Not Rated
48"
21"
34"
4
Not Rated
Flush
18"
18"
3

1/2

" (Top)
3

1/2

" (Top)
6

3/4

" (Bottom)
6

3/4

" (Bottom)
Yes
Four Swivel Casters
Wheel Brake

Replaceable
Unassembled
000000
0000000