Miniature
Fiber-Optic

Adjustable-Arm

Lights

Create a high-intensity lighting system for inspecting small and microscopic parts. To create a complete lighting system, you need a fiber-optic light, fiber-optic cable, and an adapter to connect the cable to the light. They cast a neutral white light often found in workspaces.
Add a probe to 1/8" dia. fiber-optic cables to illuminate small areas that have recessed or deep orifices.
Pair a focusing lens with a positionable cable to create a concentrated beam of light on your work.
Illuminating Glass Fiber Bundles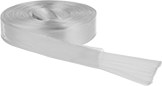 Light up small and hard-to-reach areas. These bundles are often used in fiberscopes and borescopes. They're also good for lighting small areas in models, prototypes, and circuit boards. They transmit all colors of visible light and some wavelengths of infrared light.
Made of borosilicate glass, the fibers resist greater heat and transmit light better than plastic fibers. For precise lighting, they have two layers—the outer layer keeps light contained within the inner glass core. Bundles with a larger diameter have more fibers, so they give off more light.
A separate light source is needed to illuminate them. Connect them to an LED strip or other light source using heat-shrink tubing or a fitted part, such as a ferrule. They're not for use in telecommunication cables.
The numerical aperture describes the maximum angle of light each fiber accepts and emits. To send light efficiently, use a light source with an angle at or below the numerical aperture. Choose fiber bundles with 0.66 NA for general purpose illumination. Fiber bundles with 0.55 NA cover a smaller area than those with 0.66 NA, making them good for lighting angles that have less space.
Bundle
Diameter
Acceptance
Angle
Wavelength


Range,

nm
Core

Diameter,


microns
Fiber Bend
Radius
Maximum


Temperature,

°F

Material
Each

1/16

"
67°
400-1,600
50
0.25"
890°
Borosilicate Glass
0000000
000000

1/8

"
67°
400-1,600
50
0.25"
890°
Borosilicate Glass
0000000
00000

1/4

"
67°
400-1,600
50
0.25"
890°
Borosilicate Glass
0000000
000000

1/16

"
83°
400-1,600
50
0.25"
890°
Borosilicate Glass
0000000
00000

1/8

"
83°
400-1,600
50
0.25"
890°
Borosilicate Glass
0000000
00000

1/4

"
83°
400-1,600
50
0.25"
890°
Borosilicate Glass
0000000
000000

1/16

"
67°
400-1,600
50
0.25"
890°
Borosilicate Glass
0000000
00000

1/8

"
67°
400-1,600
50
0.25"
890°
Borosilicate Glass
0000000
00000

1/4

"
67°
400-1,600
50
0.25"
890°
Borosilicate Glass
0000000
000000

1/16

"
83°
400-1,600
50
0.25"
890°
Borosilicate Glass
0000000
00000

1/8

"
83°
400-1,600
50
0.25"
890°
Borosilicate Glass
0000000
00000

1/4

"
83°
400-1,600
50
0.25"
890°
Borosilicate Glass
0000000
000000

1/16

"
67°
400-1,600
50
0.25"
890°
Borosilicate Glass
0000000
00000

1/8

"
67°
400-1,600
50
0.25"
890°
Borosilicate Glass
0000000
00000

1/4

"
67°
400-1,600
50
0.25"
890°
Borosilicate Glass
0000000
000000

1/16

"
83°
400-1,600
50
0.25"
890°
Borosilicate Glass
0000000
00000

1/8

"
83°
400-1,600
50
0.25"
890°
Borosilicate Glass
0000000
00000

1/4

"
83°
400-1,600
50
0.25"
890°
Borosilicate Glass
0000000
000000