Enclosed Platform Step Ladders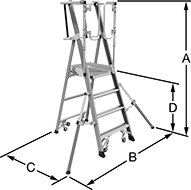 Fixed Height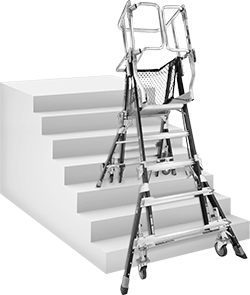 Adjustable Height

Unlike standard platform step ladders, these ladders have guardrails on all sides of the platform, allowing you to safely work with both hands while facing any direction. They are faster to set up and quicker to transport than other enclosed platforms, such as scaffolds and lifts. The gates only open in one direction, making it easy to step onto the platform while ensuring they stay closed during work. All ladders have nonconductive fiberglass rails and nonskid feet. They also have outriggers to create a wide base for added stability. Fold these ladders for compact storage and easy transport; tilt to roll them on their wheels.
ANSI A14.5 certifies dimensional and performance requirements for fiberglass ladders. Type 1A ladders are tested to hold up to 300 lbs. Type 1AA ladders are tested to hold up to 375 lbs.
Note: The number of steps listed includes the platform.
Adjustable ladders slide up and down in 12" increments by unlocking the lever on each rail. Each rail also has a telescoping foot that adjusts independently for use on uneven surfaces.
Note: Ladders meet OSHA dimensional standards. Users are responsible for checking local, state, and federal codes, including OSHA, for safe operating practices.
Ht.




(A)

Wd.




(B)

Dp.




(C)

Max.


Climbing


Ht.

(D)

Wd.




(E)

Dp.




(F)

Material
Tread

Cap.,




lbs.

Duty
Rating

Wt.,




lbs.

No.


of
Steps
Material
Tread
Wheel
Configuration
Specifications
Met
Each

Fiberglass

Fixed

Height—

With Outriggers

6'4"
35"
47"
3'8"
21"
18"
Aluminum
Ribbed
375
Type 1AA
54
4
Aluminum
Ribbed
Two Swivel and Four Rigid Casters
ANSI A14.5, OSHA Compliant 29 CFR 1910.23, OSHA Compliant 29 CFR 1910.29, OSHA Compliant 29 CFR 1926.1053, OSHA Compliant 29 CFR 1926.451, OSHA Compliant 29 CFR 1926.452, OSHA Compliant 29 CFR 1926.502
0000000
000000000
8'3"
38"
61"
5'7"
21"
18"
Aluminum
Ribbed
375
Type 1AA
65
6
Aluminum
Ribbed
Two Swivel and Four Rigid Casters
ANSI A14.5, OSHA Compliant 29 CFR 1910.23, OSHA Compliant 29 CFR 1910.29, OSHA Compliant 29 CFR 1926.1053, OSHA Compliant 29 CFR 1926.451, OSHA Compliant 29 CFR 1926.452, OSHA Compliant 29 CFR 1926.502
0000000
00000000
10'2"
41"
75"
7'5"
21"
18"
Aluminum
Ribbed
375
Type 1AA
69
8
Aluminum
Ribbed
Two Swivel and Four Rigid Casters
ANSI A14.5, OSHA Compliant 29 CFR 1910.23, OSHA Compliant 29 CFR 1910.29, OSHA Compliant 29 CFR 1926.1053, OSHA Compliant 29 CFR 1926.451, OSHA Compliant 29 CFR 1926.452, OSHA Compliant 29 CFR 1926.502
0000000
00000000
12'
44"
89"
9'4"
21"
18"
Aluminum
Ribbed
300
Type 1A
81
10
Aluminum
Ribbed
Two Swivel and Four Rigid Casters
ANSI A14.5, OSHA Compliant 29 CFR 1910.23, OSHA Compliant 29 CFR 1910.29, OSHA Compliant 29 CFR 1926.1053, OSHA Compliant 29 CFR 1926.451, OSHA Compliant 29 CFR 1926.452, OSHA Compliant 29 CFR 1926.502
0000000
00000000

Adjustable

Height—

With Outriggers

6'8"-8'8"
46"
71"
4'11"
22"
18"
Aluminum
Ribbed
375
Type 1AA
80
4
Aluminum
Ribbed
Four Swivel and Two Rigid Casters
ANSI A14.5, OSHA Compliant 29 CFR 1910.23, OSHA Compliant 29 CFR 1910.29, OSHA Compliant 29 CFR 1926.1053, OSHA Compliant 29 CFR 1926.451, OSHA Compliant 29 CFR 1926.452, OSHA Compliant 29 CFR 1926.502
0000000
00000000
8'8"-12'8"
101"-147"
89"
8'9"
22"
18"
Aluminum
Ribbed
375
Type 1AA
95
8
Aluminum
Ribbed
Four Swivel and Two Rigid Casters
ANSI A14.5, OSHA Compliant 29 CFR 1910.23, OSHA Compliant 29 CFR 1910.29, OSHA Compliant 29 CFR 1926.1053, OSHA Compliant 29 CFR 1926.451, OSHA Compliant 29 CFR 1926.452, OSHA Compliant 29 CFR 1926.502
0000000
00000000
11'8"-17'8"
135"-203"
128"
13'5"
22"
18"
Aluminum
Ribbed
375
Type 1AA
120
14
Aluminum
Ribbed
Four Swivel and Two Rigid Casters
ANSI A14.5, OSHA Compliant 29 CFR 1910.23, OSHA Compliant 29 CFR 1910.29, OSHA Compliant 29 CFR 1926.1053, OSHA Compliant 29 CFR 1926.451, OSHA Compliant 29 CFR 1926.452, OSHA Compliant 29 CFR 1926.502
0000000
00000000