Easy-Install

Rope

Clamps—

Not for Lifting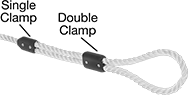 Make a removable loop without specialty tools–secure the two halves of these clamps with a screwdriver and the included screws.
To create a loop end on one rope, use the single-rope clamps. They have two input holes and one output hole, so one end of the rope will be stored inside the clamp.
Use double-rope clamps with single-rope clamps to reinforce your loop for an even stronger connection. You can also use them to join two separate lengths of rope together. To increase the strength of your application, use more than one clamp. All have two input and two output holes.
Warning: Fittings must match rope diameter and be installed correctly to obtain maximum holding power. Test all assemblies for required strength before use.
For
Rope


Dia.

Lg.

Wd.

Thick.

Capacity,




lbs.

Temperature


Range,




° F

Insert
Material
Screw
Material
For
Rope
Material
Color
Each

Plastic

Single-Rope

Clamps

3/16

"
1

7/16

"

5/8

"

7/16

"
100
-40° to 220°
Brass
Stainless Steel
Nylon, Polypropylene
Black
00000000
00000

1/4

",

5/16

"
1

3/16

"

7/8

"

1/2

"
100
-40° to 220°
Brass
Stainless Steel
Nylon, Polypropylene
Black
00000000
0000

3/8

"
2"
1

1/8

"

3/4

"
200
-40° to 220°
Brass
Stainless Steel
Nylon, Polypropylene
Black
00000000
0000

7/16

",

1/2

"
2

1/2

"
1

1/4

"

7/8

"
300
-40° to 220°
Brass
Stainless Steel
Nylon, Polypropylene
Black
00000000
0000

9/16

",

5/8

"
3"
1

1/2

"
1"
400
-40° to 220°
Brass
Stainless Steel
Nylon, Polypropylene
Black
00000000
00000

3/4

"
3

3/4

"
2"
1

1/4

"
600
-40° to 220°
Brass
Stainless Steel
Nylon, Polypropylene
Black
00000000
00000

Plastic

Double-Rope

Clamps

3/8

"
1

1/2

"
1"

5/8

"
300
-40° to 220°
Brass
Stainless Steel
Nylon, Polypropylene
Black
00000000
0000

1/2

"
1

7/8

"
1

1/4

"

7/8

"
400
-40° to 220°
Brass
Stainless Steel
Nylon, Polypropylene
Black
00000000
0000

5/8

"
2

1/4

"
1

1/2

"

7/8

"
500
-40° to 220°
Brass
Stainless Steel
Nylon, Polypropylene
Black
00000000
00000

3/4

"
3"
1

7/8

"
1

1/8

"
1,100
-40° to 220°
Brass
Stainless Steel
Nylon, Polypropylene
Black
00000000
00000