Plastic Filter Housings with Cartridge for Deionized Water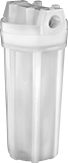 Filter Housing

Replacement Cartridge
Made from pure polypropylene, this filter housing doesn't contain fillers, colorants, or plasticizers that can leach into deionized water. It comes with a cartridge that filters particles from your deionized water line. Filter housing is opaque white so it blocks light to minimize algae growth.
High-Purity

Inline Filters
Designed for high-purity applications, these filters are cleaned and bagged individually to prevent contamination. Use them to trap small particles in tubing or pipe to ensure samples are contaminant-free for testing applications. They protect sensitive process equipment from damage caused by debris.
Filters with 99.9% filter efficiency are also known as absolute-rated filters.
Filters with Threaded Pipe Connection

With Threaded Pipe Connection
Pipe
Size

Thread
Type
Gender
Removes Particle
Size Down


To,

microns
Filter
Efficiency

Max.

Flow


Rate,


gpm

Max.


Pressure

Max.




Temp.,




°F

Material
Clarity
Color

Lg.

Dia.

Each

1/4

NPT

Male
0.2
Not Rated
0.8
70 psi @ 68° F
140°
Polypropylene Plastic
Opaque
White
5"
3"
00000000
0000000

1/4

NPT

Male
0.2
99.9%
1
100 psi @ 68° F
176°
Polypropylene Plastic
Opaque
White
5"
3

3/4

"
0000000
000000

1/4

NPT

Male
0.45
Not Rated
1.5
70 psi @ 68° F
140°
Polypropylene Plastic
Opaque
White
5"
3"
00000000
000000

1/4

NPT

Male
1
99.9%
1
100 psi @ 68° F
176°
Polypropylene Plastic
Opaque
White
5"
3

3/4

"
0000000
000000

1/4

NPT

Male
1.2
Not Rated
1
70 psi @ 68° F
140°
Polypropylene Plastic
Opaque
White
5"
3"
00000000
000000

1/4

NPT

Male
1.2
99.9%
1
100 psi @ 68° F
176°
Polypropylene Plastic
Opaque
White
5"
3

3/4

"
0000000
000000

1/4

NPT

Male
5
Not Rated
2.7
70 psi @ 68° F
140°
Polypropylene Plastic
Opaque
White
5"
3"
00000000
000000

1/4

NPT

Male
10
Not Rated
3.3
70 psi @ 68° F
140°
Polypropylene Plastic
Opaque
White
5"
3"
00000000
000000

1/2

NPT

Male
0.2
Not Rated
0.8
70 psi @ 68° F
140°
Polypropylene Plastic
Opaque
White
6"
3"
00000000
000000

1/2

NPT

Male
1.2
99.9%
1
100 psi @ 68° F
176°
Polypropylene Plastic
Opaque
White
5"
3

3/4

"
0000000
000000

1/2

NPT

Male
10
Not Rated
3.3
70 psi @ 68° F
140°
Polypropylene Plastic
Opaque
White
6"
3"
00000000
000000