About Air Filter Efficiency Ratings
Ultra-Efficiency

Panel Air Filters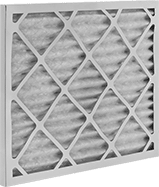 Rated MERV 13, these filters capture particles down to 0.3 microns. Use in data centers, hospitals, and other locations that require extra-clean air. These filters have pleats that create a large surface area for filtering without reducing airflow. The cardboard frame is treated to resist humidity, and the galvanized steel grill prevents sagging.
Filters meet UL 900 flame retardance requirements. Actual size is up to 5/8" less than trade size.
For technical drawings and 3-D models, click on a part number.
Trade
Size
MERV
Filter
Rating

0.3


Microns

1 Micron

3 Microns

Removes Particle
Size Down


To,

microns
Material
Frame
Material

Max.




Temp.,




°F

Pkg.

10 × 10
13

50%
85%
90%
0.3
Polyethylene Plastic/Polypropylene Plastic Blend
Cardboard
150°
00000000
000000
10 × 20
13

50%
85%
90%
0.3
Polyethylene Plastic/Polypropylene Plastic Blend
Cardboard
150°
00000000
00000
12 × 12
13

50%
85%
90%
0.3
Polyethylene Plastic/Polypropylene Plastic Blend
Cardboard
150°
00000000
00000
12 × 16
13

50%
85%
90%
0.3
Polyethylene Plastic/Polypropylene Plastic Blend
Cardboard
150°
00000000
00000
12 × 20
13

50%
85%
90%
0.3
Polyethylene Plastic/Polypropylene Plastic Blend
Cardboard
150°
00000000
00000
12 × 24
13

50%
85%
90%
0.3
Polyethylene Plastic/Polypropylene Plastic Blend
Cardboard
150°
00000000
00000
14 × 25
13

50%
85%
90%
0.3
Polyethylene Plastic/Polypropylene Plastic Blend
Cardboard
150°
00000000
00000
15 × 20
13

50%
85%
90%
0.3
Polyethylene Plastic/Polypropylene Plastic Blend
Cardboard
150°
00000000
00000
16 × 16
13

50%
85%
90%
0.3
Polyethylene Plastic/Polypropylene Plastic Blend
Cardboard
150°
00000000
00000
16 × 20
13

50%
85%
90%
0.3
Polyethylene Plastic/Polypropylene Plastic Blend
Cardboard
150°
00000000
00000
16 × 25
13

50%
85%
90%
0.3
Polyethylene Plastic/Polypropylene Plastic Blend
Cardboard
150°
00000000
00000
16 × 30
13

50%
85%
90%
0.3
Polyethylene Plastic/Polypropylene Plastic Blend
Cardboard
150°
00000000
00000
18 × 18
13

50%
85%
90%
0.3
Polyethylene Plastic/Polypropylene Plastic Blend
Cardboard
150°
00000000
00000
18 × 24
13

50%
85%
90%
0.3
Polyethylene Plastic/Polypropylene Plastic Blend
Cardboard
150°
00000000
00000
20 × 20
13

50%
85%
90%
0.3
Polyethylene Plastic/Polypropylene Plastic Blend
Cardboard
150°
00000000
00000
20 × 24
13

50%
85%
90%
0.3
Polyethylene Plastic/Polypropylene Plastic Blend
Cardboard
150°
00000000
00000
20 × 25
13

50%
85%
90%
0.3
Polyethylene Plastic/Polypropylene Plastic Blend
Cardboard
150°
00000000
00000
20 × 30
13

50%
85%
90%
0.3
Polyethylene Plastic/Polypropylene Plastic Blend
Cardboard
150°
00000000
00000
24 × 24
13

50%
85%
90%
0.3
Polyethylene Plastic/Polypropylene Plastic Blend
Cardboard
150°
00000000
00000
10 × 10
13

50%
85%
90%
0.3
Polyethylene Plastic/Polypropylene Plastic Blend
Cardboard
150°
00000000
000000
10 × 20
13

50%
85%
90%
0.3
Polyethylene Plastic/Polypropylene Plastic Blend
Cardboard
150°
00000000
000000
12 × 12
13

50%
85%
90%
0.3
Polyethylene Plastic/Polypropylene Plastic Blend
Cardboard
150°
00000000
000000
12 × 16
13

50%
85%
90%
0.3
Polyethylene Plastic/Polypropylene Plastic Blend
Cardboard
150°
00000000
000000
12 × 20
13

50%
85%
90%
0.3
Polyethylene Plastic/Polypropylene Plastic Blend
Cardboard
150°
00000000
000000
12 × 24
13

50%
85%
90%
0.3
Polyethylene Plastic/Polypropylene Plastic Blend
Cardboard
150°
00000000
000000
14 × 25
13

50%
85%
90%
0.3
Polyethylene Plastic/Polypropylene Plastic Blend
Cardboard
150°
00000000
000000
15 × 20
13

50%
85%
90%
0.3
Polyethylene Plastic/Polypropylene Plastic Blend
Cardboard
150°
00000000
000000
16 × 16
13

50%
85%
90%
0.3
Polyethylene Plastic/Polypropylene Plastic Blend
Cardboard
150°
00000000
000000
16 × 20
13

50%
85%
90%
0.3
Polyethylene Plastic/Polypropylene Plastic Blend
Cardboard
150°
00000000
000000
16 × 25
13

50%
85%
90%
0.3
Polyethylene Plastic/Polypropylene Plastic Blend
Cardboard
150°
00000000
000000
16 × 30
13

50%
85%
90%
0.3
Polyethylene Plastic/Polypropylene Plastic Blend
Cardboard
150°
00000000
000000
18 × 18
13

50%
85%
90%
0.3
Polyethylene Plastic/Polypropylene Plastic Blend
Cardboard
150°
00000000
000000
18 × 24
13

50%
85%
90%
0.3
Polyethylene Plastic/Polypropylene Plastic Blend
Cardboard
150°
00000000
000000
20 × 20
13

50%
85%
90%
0.3
Polyethylene Plastic/Polypropylene Plastic Blend
Cardboard
150°
00000000
000000
20 × 24
13

50%
85%
90%
0.3
Polyethylene Plastic/Polypropylene Plastic Blend
Cardboard
150°
00000000
000000
20 × 25
13

50%
85%
90%
0.3
Polyethylene Plastic/Polypropylene Plastic Blend
Cardboard
150°
00000000
000000
20 × 30
13

50%
85%
90%
0.3
Polyethylene Plastic/Polypropylene Plastic Blend
Cardboard
150°
00000000
000000
24 × 24
13

50%
85%
90%
0.3
Polyethylene Plastic/Polypropylene Plastic Blend
Cardboard
150°
00000000
000000
Trade
Size
MERV
Filter
Rating

0.3


Microns

1 Micron

3 Microns

Removes Particle
Size Down


To,

microns
Material
Frame
Material

Max.




Temp.,




°F

Pkg.

10 × 10
13

50%
85%
90%
0.3
Polyethylene Plastic/Polypropylene Plastic Blend
Cardboard
150°
00000000
000000
12 × 12
13

50%
85%
90%
0.3
Polyethylene Plastic/Polypropylene Plastic Blend
Cardboard
150°
00000000
00000
12 × 16
13

50%
85%
90%
0.3
Polyethylene Plastic/Polypropylene Plastic Blend
Cardboard
150°
00000000
00000
12 × 20
13

50%
85%
90%
0.3
Polyethylene Plastic/Polypropylene Plastic Blend
Cardboard
150°
00000000
00000
12 × 24
13

50%
85%
90%
0.3
Polyethylene Plastic/Polypropylene Plastic Blend
Cardboard
150°
00000000
00000
14 × 25
13

50%
85%
90%
0.3
Polyethylene Plastic/Polypropylene Plastic Blend
Cardboard
150°
00000000
00000
15 × 20
13

50%
85%
90%
0.3
Polyethylene Plastic/Polypropylene Plastic Blend
Cardboard
150°
00000000
00000
16 × 16
13

50%
85%
90%
0.3
Polyethylene Plastic/Polypropylene Plastic Blend
Cardboard
150°
00000000
00000
16 × 20
13

50%
85%
90%
0.3
Polyethylene Plastic/Polypropylene Plastic Blend
Cardboard
150°
00000000
00000
16 × 24
13

50%
85%
90%
0.3
Polyethylene Plastic/Polypropylene Plastic Blend
Cardboard
150°
00000000
00000
16 × 25
13

50%
85%
90%
0.3
Polyethylene Plastic/Polypropylene Plastic Blend
Cardboard
150°
00000000
00000
18 × 18
13

50%
85%
90%
0.3
Polyethylene Plastic/Polypropylene Plastic Blend
Cardboard
150°
00000000
00000
18 × 24
13

50%
85%
90%
0.3
Polyethylene Plastic/Polypropylene Plastic Blend
Cardboard
150°
00000000
00000
20 × 20
13

50%
85%
90%
0.3
Polyethylene Plastic/Polypropylene Plastic Blend
Cardboard
150°
00000000
00000
20 × 24
13

50%
85%
90%
0.3
Polyethylene Plastic/Polypropylene Plastic Blend
Cardboard
150°
00000000
00000
20 × 25
13

50%
85%
90%
0.3
Polyethylene Plastic/Polypropylene Plastic Blend
Cardboard
150°
00000000
00000
20 × 30
13

50%
85%
90%
0.3
Polyethylene Plastic/Polypropylene Plastic Blend
Cardboard
150°
00000000
00000
24 × 24
13

50%
85%
90%
0.3
Polyethylene Plastic/Polypropylene Plastic Blend
Cardboard
150°
00000000
00000
10 × 10
13

50%
85%
90%
0.3
Polyethylene Plastic/Polypropylene Plastic Blend
Cardboard
150°
00000000
000000
12 × 12
13

50%
85%
90%
0.3
Polyethylene Plastic/Polypropylene Plastic Blend
Cardboard
150°
00000000
000000
12 × 16
13

50%
85%
90%
0.3
Polyethylene Plastic/Polypropylene Plastic Blend
Cardboard
150°
00000000
000000
12 × 20
13

50%
85%
90%
0.3
Polyethylene Plastic/Polypropylene Plastic Blend
Cardboard
150°
00000000
000000
12 × 24
13

50%
85%
90%
0.3
Polyethylene Plastic/Polypropylene Plastic Blend
Cardboard
150°
00000000
000000
14 × 25
13

50%
85%
90%
0.3
Polyethylene Plastic/Polypropylene Plastic Blend
Cardboard
150°
00000000
000000
15 × 20
13

50%
85%
90%
0.3
Polyethylene Plastic/Polypropylene Plastic Blend
Cardboard
150°
00000000
000000
16 × 16
13

50%
85%
90%
0.3
Polyethylene Plastic/Polypropylene Plastic Blend
Cardboard
150°
00000000
000000
16 × 20
13

50%
85%
90%
0.3
Polyethylene Plastic/Polypropylene Plastic Blend
Cardboard
150°
00000000
000000
16 × 24
13

50%
85%
90%
0.3
Polyethylene Plastic/Polypropylene Plastic Blend
Cardboard
150°
00000000
000000
16 × 25
13

50%
85%
90%
0.3
Polyethylene Plastic/Polypropylene Plastic Blend
Cardboard
150°
00000000
000000
18 × 18
13

50%
85%
90%
0.3
Polyethylene Plastic/Polypropylene Plastic Blend
Cardboard
150°
00000000
000000
18 × 24
13

50%
85%
90%
0.3
Polyethylene Plastic/Polypropylene Plastic Blend
Cardboard
150°
00000000
000000
20 × 20
13

50%
85%
90%
0.3
Polyethylene Plastic/Polypropylene Plastic Blend
Cardboard
150°
00000000
000000
20 × 24
13

50%
85%
90%
0.3
Polyethylene Plastic/Polypropylene Plastic Blend
Cardboard
150°
00000000
000000
20 × 25
13

50%
85%
90%
0.3
Polyethylene Plastic/Polypropylene Plastic Blend
Cardboard
150°
00000000
000000
20 × 30
13

50%
85%
90%
0.3
Polyethylene Plastic/Polypropylene Plastic Blend
Cardboard
150°
00000000
000000
24 × 24
13

50%
85%
90%
0.3
Polyethylene Plastic/Polypropylene Plastic Blend
Cardboard
150°
00000000
000000
Trade
Size
MERV
Filter
Rating

0.3


Microns

1 Micron

3 Microns

Removes Particle
Size Down


To,

microns
Material
Frame
Material

Max.




Temp.,




°F

Pkg.

12 × 24
13

50%
85%
90%
0.3
Polyethylene Plastic/Polypropylene Plastic Blend
Cardboard
150°
00000000
000000
14 × 25
13

50%
85%
90%
0.3
Polyethylene Plastic/Polypropylene Plastic Blend
Cardboard
150°
00000000
000000
16 × 20
13

50%
85%
90%
0.3
Polyethylene Plastic/Polypropylene Plastic Blend
Cardboard
150°
00000000
00000
16 × 25
13

50%
85%
90%
0.3
Polyethylene Plastic/Polypropylene Plastic Blend
Cardboard
150°
00000000
00000
18 × 24
13

50%
85%
90%
0.3
Polyethylene Plastic/Polypropylene Plastic Blend
Cardboard
150°
00000000
00000
20 × 20
13

50%
85%
90%
0.3
Polyethylene Plastic/Polypropylene Plastic Blend
Cardboard
150°
00000000
00000
20 × 24
13

50%
85%
90%
0.3
Polyethylene Plastic/Polypropylene Plastic Blend
Cardboard
150°
00000000
00000
20 × 25
13

50%
85%
90%
0.3
Polyethylene Plastic/Polypropylene Plastic Blend
Cardboard
150°
00000000
00000
24 × 24
13

50%
85%
90%
0.3
Polyethylene Plastic/Polypropylene Plastic Blend
Cardboard
150°
00000000
00000
12 × 24
13

50%
85%
90%
0.3
Polyethylene Plastic/Polypropylene Plastic Blend
Cardboard
150°
00000000
000000
14 × 25
13

50%
85%
90%
0.3
Polyethylene Plastic/Polypropylene Plastic Blend
Cardboard
150°
00000000
000000
16 × 20
13

50%
85%
90%
0.3
Polyethylene Plastic/Polypropylene Plastic Blend
Cardboard
150°
00000000
000000
16 × 25
13

50%
85%
90%
0.3
Polyethylene Plastic/Polypropylene Plastic Blend
Cardboard
150°
00000000
000000
18 × 24
13

50%
85%
90%
0.3
Polyethylene Plastic/Polypropylene Plastic Blend
Cardboard
150°
00000000
000000
20 × 20
13

50%
85%
90%
0.3
Polyethylene Plastic/Polypropylene Plastic Blend
Cardboard
150°
00000000
000000
20 × 24
13

50%
85%
90%
0.3
Polyethylene Plastic/Polypropylene Plastic Blend
Cardboard
150°
00000000
000000
20 × 25
13

50%
85%
90%
0.3
Polyethylene Plastic/Polypropylene Plastic Blend
Cardboard
150°
00000000
000000
24 × 24
13

50%
85%
90%
0.3
Polyethylene Plastic/Polypropylene Plastic Blend
Cardboard
150°
00000000
000000