About Air Filter Efficiency Ratings
HEPA Box Air Filters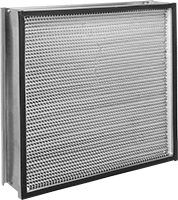 Control dust and contaminants in hospitals, laboratories, and other demanding environments. These filters have a rigid frame that withstands fluctuations in airflow, such as those created by variable air volume systems. The sealing gasket is on the downstream side of the filter.
The trade size is the actual size of the filter.
UL Classified-rated filters meet flame retardance requirements.
For technical drawings and 3-D models, click on a part number.
HVAC Filter
Trade Size
Filter Efficiency
@

0.3

Microns
Removes Particle Size
Down

To,

microns
Material
Specifications
Met
Each

Particleboard Frame

23

3/8

× 23

3/8

99.97%
0.3
Fiberglass
UL Classified
0000000
0000000

Galvanized Steel Frame

23

3/8

× 23

3/8

99.97%
0.3
Fiberglass
UL 900
0000000
000000

Stainless Steel Frame

23

3/8

× 23

3/8

99.97%
0.3
Fiberglass
UL 900
0000000
00000000