About Air Filter Efficiency Ratings
Grease Filters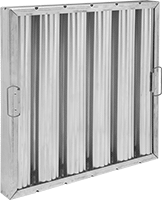 Use in exhaust hoods to remove grease and oil from the air. These filters have layers of baffled metal that collect grease while allowing air to pass through. Install so baffles are vertical.
Actual size is 1/2" less than trade size. Trade size is height × width.
For technical drawings and 3-D models, click on a part number.
HVAC Filter
Trade Size

Max.




Temperature,

°F

Specifications Met
Useful Life
Each

Aluminum

25 × 20
250°
NFPA 96, UL Recognized Component
Reusable
0000000
000000

Galvanized Steel

25 × 20
450°
NFPA 96, UL Recognized Component
Reusable
0000000
00000

Stainless Steel

25 × 20
900°
NFPA 96, UL Recognized Component
Reusable
0000000
000000