Fingertip Ratchet Wrenches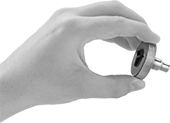 Turn sockets in the most confined spaces. The smaller the turn required to ratchet, the less clearance you need to engage the ratchet.
Fingertip Socket Spinners

Fit these adapters between a wrench and socket to enable finger tightening.
For technical drawings and 3-D models, click on a part number.