Fire Alarm Control Panels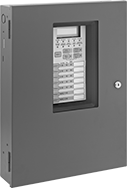 Connect and monitor your fire alarm system. Control panel comes with all the circuitry needed to power and monitor devices for up to five zones. These devices can include up to 30 smoke or carbon monoxide detectors as well as an unlimited number of heat detectors and fire alarm stations. Indicators show the status of each zone. The control panel has one relay for connecting alarms such as buzzers, bells, and lights.
The control panel requires two 12-volt batteries (not included) for operation; in case of power failure, it will use the batteries as a backup power source.
For

Max.


Number
of Zones
For

Max.


Number
of Detectors

Ht.

Wd.

Dp.

Material
Color
Electrical
Connection
Voltage
Batteries
Included
Number of
Batteries
Required
Battery
Size
Specifications
Met
Each
5
30
19

1/2

"
14

1/4

"
3

3/4

"
Steel
Red
Screw Terminals
120V AC
No
2
12V
UL Listed

0000000
0000000
Fire Alarm Stations

Push Button

Pull Handle

Install these stations throughout your facility for quick access in case of a fire. When activated, they send a signal to your control panel.
Push-button station helps comply with ADA standards when properly installed.
Heat Detectors for Fire Alarm Systems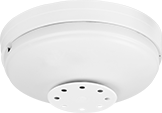 When the temperature climbs above the temperature rating, the detector sends a signal to your control panel.
Temperature


Rating,




°F

Dia.

Dp.

Tandem
Signaling
Capable
Electrical
Connection
Number
of Wire
Leads
Voltage
Current
Specifications
Met
Each

For Indoor Use

135°
4

9/16

"
1

11/16

"
No
Screw Terminals
__
12V DC
24V DC
120V AC
1 A @ 12 V DC
1 A @ 24 V DC
3 A @ 120 V AC
FM Approved, UL Listed
0000000
000000
194°
4

9/16

"
1

11/16

"
No
Screw Terminals
__
12V DC
24V DC
120V AC
1 A @ 12 V DC
1 A @ 24 V DC
3 A @ 120 V AC
FM Approved, UL Listed
0000000
00000

For Outdoor Use

135°
2"
4

1/8

"
No
Wire Leads
4
12V DC
24V DC
120V AC
1 A @ 12 V DC
1 A @ 24 V DC
5 A @ 120 V AC
FM Approved, UL Listed
0000000
00000
194°
2"
4

1/8

"
No
Wire Leads
4
12V DC
24V DC
120V AC
1 A @ 12 V DC
1 A @ 24 V DC
5 A @ 120 V AC
FM Approved, UL Listed
0000000
00000