Panel-Mount

Threaded Diverting Valves
For installation in instrument panels, these valves have threads and a hex nut below the handle. They divert flow between ports. Turn the handle to direct the flow.
Full-port valves do not restrict flow.
Standard-port valves slightly restrict flow.
Flow coefficient (Cv) is the amount of water (in gallons per minute) at 60° F that will flow through a fully open valve with a difference of 1 psi between the inlet and the outlet.
For technical drawings and 3-D models, click on a part number.

Female
Bottom ×
Female
Side ×
Female
Side ×
Female Side

Female
Bottom ×
Female
Side ×
Female
Side ×
Female
Side ×
Female Side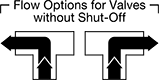 Valve

Type:

Ball
Seal

Material:

See table

For Use

With:

See Table
Pipe
Size

Flow


Shut-Off

Style
Color
Port
Type
Flow
Coefficient


(Cv)

Max.


Pressure

Temp.




Range,




°F

Vacuum


Rating,




in.

of Hg
Panel
Cutout


Dia.

Seal
Material

End-to-End




Lg.

For
Use
With
Each

Brass Body

NPT Female Bottom × NPT Female Side × NPT Female Side × NPT Female Side

1/8

Yes
T-Handle
Black
Full
0.7
500 psi @ 70° F
-20° to 180°
Not Rated

3/4

"
Buna-N Rubber
1

11/16

"
Air, Argon, Helium, Krypton, Neon, Oil, Water, Xenon
0000000
0000000

1/8

Yes
T-Handle
Blue
Full
Not Rated
500 psi @ 70° F
-20° to 180°
Not Rated

3/4

"
Buna-N Rubber
1

11/16

"
Air, Argon, Helium, Krypton, Neon, Oil, Water, Xenon
0000000
000000

1/4

Yes
T-Handle
Black
Standard
Not Rated
500 psi @ 70° F
-20° to 180°
Not Rated

3/4

"
Buna-N Rubber
2

1/16

"
Air, Argon, Helium, Krypton, Neon, Oil, Water, Xenon
0000000
000000

1/4

Yes
T-Handle
Blue
Standard
0.7
500 psi @ 70° F
-20° to 180°
Not Rated

3/4

"
Buna-N Rubber
2

1/16

"
Air, Argon, Helium, Krypton, Neon, Oil, Water, Xenon
0000000
000000

3/8

Yes
T-Handle
Blue
Standard
Not Rated
500 psi @ 70° F
-20° to 180°
Not Rated

3/4

"
Buna-N Rubber
2

1/2

"
Air, Argon, Helium, Krypton, Neon, Oil, Water, Xenon
0000000
000000

1/2

Yes
T-Handle
Blue
Full
3.34
500 psi @ 70° F
-20° to 180°
Not Rated

3/4

"
Buna-N Rubber
3

1/8

"
Air, Argon, Helium, Krypton, Neon, Oil, Water, Xenon
0000000
000000

NPT Female Bottom × NPT Female Side × NPT Female Side × NPT Female Side × NPT Female Side

1/8

No
T-Handle
Black
Standard
0.64
1500 psi @ 70° F
-30° to 300°
29

7/8

"
Buna-N Rubber, Fluoroelastomer Rubber
2

1/8

"
Air, Argon, Helium, Krypton, Neon, Oil, Water, Xenon
0000000
000000

1/4

No
T-Handle
Black
Standard
0.64
1500 psi @ 70° F
-30° to 300°
29

7/8

"
Buna-N Rubber, Fluoroelastomer Rubber
2

1/8

"
Air, Argon, Helium, Krypton, Neon, Oil, Water, Xenon
0000000
000000