Electrical-Insulating

Sleeve Washers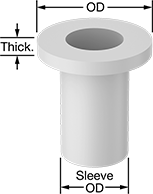 Also known as shoulder or insulator washers, these nonmetal washers block electrical current and prevent galvanic corrosion from mating different types of metal.
Ceramic washers withstand high temperatures and resist moisture as well as hydrochloric and nitric acid gases.
For technical drawings and 3-D models, click on a part number.
For
Screw
Size
ID
OD
Sleeve
OD

Thick.

Overall


Ht.

Min.

Max.

Color

Pkg.




Qty.

Pkg.

Ceramic

No. 6
0.150"
0.500"
0.281"
0.125"
0.187"
Not Rated
1700°
Off-White
5
000000000
000000
No. 6
0.150"
0.500"
0.281"
0.187"
0.437"
Not Rated
1700°
Off-White
5
000000000
00000
No. 8
0.175"
0.625"
0.406"
0.125"
0.187"
Not Rated
1700°
Off-White
5
000000000
00000
No. 8
0.175"
0.625"
0.406"
0.218"
0.468"
Not Rated
1700°
Off-White
5
000000000
00000
No. 10
0.200"
0.750"
0.468"
0.156"
0.218"
Not Rated
1700°
Off-White
5
000000000
00000
No. 10
0.200"
0.750"
0.468"
0.218"
0.468"
Not Rated
1700°
Off-White
5
000000000
00000

1/4

"
0.265"
0.875"
0.593"
0.188"
0.250"
Not Rated
1700°
Off-White
5
000000000
00000

1/4

"
0.265"
0.875"
0.593"
0.250"
0.500"
Not Rated
1700°
Off-White
5
000000000
00000
M2
2.100mm
4.200mm
3.000mm
1.500mm
4.000mm
Not Rated
1700°
Off-White
1
000000000
0000
M3
3.100mm
6.200mm
4.000mm
1.500mm
3.000mm
Not Rated
1700°
Off-White
1
000000000
0000
M3
3.100mm
6.200mm
4.000mm
1.500mm
5.000mm
Not Rated
1700°
Off-White
1
000000000
0000
M3
3.100mm
6.200mm
4.000mm
1.500mm
9.000mm
Not Rated
1700°
Off-White
1
000000000
0000
M4
4.100mm
8.400mm
6.000mm
1.500mm
4.500mm
Not Rated
1700°
Off-White
1
000000000
0000
M4
4.100mm
8.400mm
6.000mm
1.500mm
6.500mm
Not Rated
1700°
Off-White
1
000000000
0000
M5
5.100mm
10.200mm
7.000mm
2.000mm
5.000mm
Not Rated
1700°
Off-White
1
000000000
0000
M5
5.100mm
10.200mm
7.000mm
2.000mm
7.000mm
Not Rated
1700°
Off-White
1
000000000
0000
M6
6.100mm
12.200mm
8.000mm
2.000mm
6.000mm
Not Rated
1700°
Off-White
1
000000000
0000
M6
6.100mm
12.200mm
8.000mm
2.000mm
12.000mm
Not Rated
1700°
Off-White
1
000000000
0000
M8
8.100mm
14.200mm
10.000mm
2.500mm
6.500mm
Not Rated
1700°
Off-White
1
000000000
0000
M8
8.100mm
14.200mm
10.000mm
2.500mm
10.500mm
Not Rated
1700°
Off-White
1
000000000
0000