How to

Identify and Measure Fittings
Pipe size is an industry designation, not the actual size. View information about how to measure threaded and unthreaded pipe and pipe fittings.
High-Polish

Metal

Quick-Clamp

Sanitary Tube Fittings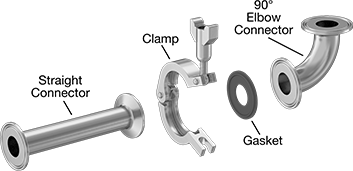 Temperature

Range:

See Gaskets
The smooth finish inside these fittings makes it easy to remove product residue. Also known as aseptic and tri-clamp fittings, they connect with a gasket, a clamp, and another quick-clamp fitting for a fast and easy way to access your line. The pressure rating of the fitting will vary depending on the clamp you choose, and the temperature rating will vary based on the gasket material you choose.
316 stainless steel fittings have excellent corrosion resistance.
3-A certified fittings comply with sanitary standards.
Note: To complete a connection, you'll need two quick-clamp fittings, a clamp, and a gasket (all sold separately).
For technical drawings and 3-D models, click on a part number.
Sanitary Sampling Stainless Steel Tube Fittings
Draw up to seven samples through one pierceable lid
For Use

With:

Dairy,

Beverage,

Water,

Air,

Food

Tubing:

Use with welded

316/316L

stainless steel
Specifications

Met:

3-A Certified

63-03
Take samples in sanitary environments—these tube fittings won't contaminate your lines or force you to pause them. Made of 316L stainless steel, they'll stand up to harsh cleaners and sanitizers without corroding. They also have polished internal surfaces, minimizing the space where bacteria could grow. With quick-clamp connections, they are easy to take apart for cleaning or reconfiguring your line. All are 3-A certified to meet sanitary design standards, so they're often used in food and beverage, pharmaceutical, and biotech applications.
All fittings require pierceable lids (sold separately) to draw samples through a hypodermic needle. Each lid is good for seven samples, and each sample leaves a hole mark, so you know when it's time to unscrew the nut on the tube fitting and swap in a new lid. To help prevent dust and moisture from accumulating on the lid, all tube fittings have a dust cover. These lids are FDA compliant, so they keep contaminants from entering your line and also are approved for direct contact with food if they break off and fall in. Manufactured free of contaminants and allergens, all are BPA-, latex-, and phthalate-free. They're also TSE/BSE compliant, meaning they've never come into contact with any animal products.
Pair these tube fittings with liquid samplers for a sample. They use gravity to draw out liquid through the needle directly into the bag.
For technical drawings and 3-D models, click on a part number.
Capacity,


ml

Ht.

Wd.

Thick.,


mil
Gauge

Lg.

ID
OD
Material
Connection
Type
Color
Specifications
Met
Each

PVC Plastic

250
8"
5"
14
18
1

1/2

"
0.033"
0.05"
304 Stainless Steel
Luer Lock
Clear
ISO 10993, USP Class VI
0000000
00000
2,000
14"
7"
14
18
1

1/2

"
0.033"
0.05"
304 Stainless Steel
Luer Lock
Clear
ISO 10993, USP Class VI
0000000
0000