How to

Identify and Measure Fittings
Pipe size is an industry designation, not the actual size. View information about how to measure threaded and unthreaded pipe and pipe fittings.
Thick-Wall

Plastic Pipe Flanges for Water
For Use

With:

Drinking

Water,

Water

Class: 150

Maximum

Temperature:

140° F

Specifications

Met:

ASTM

D1784,

NSF/ANSI 61

Pipe Nipples and

Pipe:

Use Schedule 80 PVC Plastic

Fittings:

Use Schedule 80 PVC Plastic
Also known as Class 150 flanges, these flanges have thick, strong walls to handle heavy duty industrial plumbing and water supply applications, such as water processing, waste water treatment, and irrigation. They meet NSF/ANSI Standard 61 for drinking water. Bolt two same-size flanges together with a gasket (sold separately) to create an access point within a line. Flanges are PVC, which has good corrosion resistance. They meet ASTM D1784 specifications and testing requirements for material quality.
Warning: Never use plastic pipe flanges and pipe with compressed air or gas.
Sealants cannot be sold to the listed regions due to local VOC (Volatile Organic Compounds) regulations.
Rotating Female Socket-Connect Flanges

Front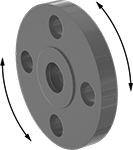 Raised Surface on Back
Attach socket-connect ends to unthreaded pipe or another socket-connect fitting with a PVC primer and cement (also known as solvent weld).
Rotating flanges are also known as Van Stone flanges; they swivel for easy bolt hole alignment.