How to

Identify and Measure Fittings
Pipe size is an industry designation, not the actual size. View information about how to measure threaded and unthreaded pipe and pipe fittings.
Low-Pressure

Press-Connect

Steel Unthreaded Pipe Fittings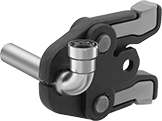 For Use

On:


EPDM Rubber O-

Ring:

Ethylene

Glycol,

Propylene

Glycol,

Water
Buna-N Rubber O-

Ring:

Air,

Lubricants,

Propane,

Fuel

Oil,

Natural

Gas,

Diesel Fuel
Specifications

Met:


EPDM Rubber O-

Ring:

ASME

B31,1,

ASME

B31.3,

ASME

B31.9,

Uniform Plumbing

Code,

FM

1920,

UL

213,

Uniform Mechanical Code
Buna-N Rubber O-

Ring:

ASME

B31.1,

ASME

B31.3,

ASME

B31.9,

Uniform Plumbing

Code,

ANSI

LC4/CSA

6.32,

Uniform Mechanical

Code,

International Fuel Gas Code
Maximum

Pressure:


EPDM Rubber O-

Ring:

200

psi @

72° F


Buna-N Rubber O-

Ring:

125

psi @

72° F

Pipe Nipples and

Pipe:

Use Schedule 40 Steel

Flanges:

Use Class 150 Steel
Crimp these fittings onto steel pipe to form a tightly sealed connection that's faster than threading or welding and doesn't require heat. An internal gripping ring and rubber O-ring create a secure seal when crimped. They are designed to leak if fittings have not been crimped; a colored dot marks the leak path so it's easy to spot unsealed connections. These steel fittings are coated in zinc-nickel to resist corrosion, but will rust if frequently exposed to saltwater or harsh chemicals. They are comparable to Viega MegaPress steel fittings.
Fittings comply with the Uniform Plumbing Code for plumbing systems and the Uniform Mechanical Code for HVAC and refrigeration. They also meet ANSI/ASME B31 code requirements for use in pressure piping systems.
Fittings with an EPDM rubber O-ring are often used for water processing lines, fire sprinklers, and heating and cooling systems. EPDM rubber won't degrade when exposed to water, ethylene glycol, and propylene glycol. These fittings meet UL 213 and FM 1920 standards for use in fire protection systems.
Buna-N rubber O-rings hold up to natural gas, propane, diesel fuel, lubricants, and other oils. Fittings with these O-rings are often used in fuel gas systems and air lines. They meet the ANSI LC4/CSA 6.32 standard for fuel gas systems and comply with the International Fuel Gas Code.
Bolt two same-size flanges together with a gasket (sold separately) to create a removable connection to valves, pumps and other equipment.
For technical drawings and 3-D models, click on a part number.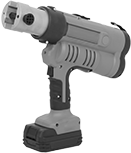 Crimping Tool
Crimping tools seal fittings in less than five seconds. These tools are cordless, so you can take them to any job. Connect the jaw or ring that matches your pipe size to these tools, then pull the trigger to crimp the fitting. The pivoting head lets you access connections from any angle.
Voltage

No.


Included

Cap.,




amp-hrs.

Battery Charger
Included
Battery Charging


Time,

min.

Compatible With
Each
18V DC
1
3
Yes
39
Viega MegaPress
Viega ProPress
Viega ProPress XL-C
00000000
000000000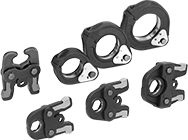 Jaw and ring sets include three jaws, three rings, and one ring actuator jaw. Jaws are for pipe sizes 1/2 to 1; they fit directly into the crimping tool. Rings are for pipe sizes 1 1/4 to 2; clip the ring around the fitting and use the ring actuator jaw and crimping tool to press the open ends together.
Size
Material
For
Manufacturer
For
Manufacturer
Model

No.

Compatible
With
Includes
Container
Type
Each

1/2

,

3/4

, 1, 1

1/4

, 1

1/2

, 2
Stainless Steel, Steel
Ridgid
RP 340
Viega MegaPress
One Ring Actuator Jaw
Three Jaws (

1/2

-1 Pipe Size)
Three Rings (1

1/4

-2 Pipe Size)
Carrying Case
00000000
000000000
Quick-Clamp

High-Vacuum

Fittings for Stainless Steel Tubing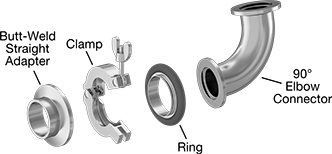 For Use

With:


Fittings with Gasket

End:

Air,

Argon,

Helium,

Nitrogen
All Other

Fittings:

Air
Temperature

Range:

0° to 300° F

Tubing:

Use with

304/304L

or

316/316L

stainless steel
Specifications

Met:

ISO 2861
Instead of a gasket, these fittings have a special ring that is designed for high-vacuum applications, such as vacuum coating and heat treating, leak testing, and analyzing gases. Also known as KF, QF, and NW fittings, they are the most common type of connection in high-vacuum systems. Connect with a clamp and another quick-clamp fitting for fast, easy access to your line. To use fittings in pressure applications, use a pressure-rated ring (sold separately).
304 stainless steel fittings have very good corrosion resistance.
Note: To complete a connection, you'll need two quick-clamp fittings, a ring, and a clamp (all sold separately).
Ultra-High-Vacuum

Flanges and Fittings for Stainless Steel Tubing
For Use

With:

Air
Temperature

Range:




Flanges:

-300° to 800° F




Gaskets:

Not Rated

Tubing:

Use with

304/304L

and

316/316L

stainless steel
Specifications

Met:




Flanges:

ASTM

A240,

ASTM

E45,

ASTM E12


Gaskets:

ASTM

B152-179,

ASTM F68
Create access points in ultra-high-vacuum lines or chambers by bolting two same-size flanges together with a copper gasket (sold separately) between them. The flanges' sharp edges dig into the copper gasket and form an extremely tight seal, which means they handle higher vacuum pressures than other high-vacuum fittings with rubber gaskets. Also known as CF, Conflat, and UHV fittings, use them in vacuum coating, heat treating, and drying applications, as well as for leak testing and analyzing gases. They're stainless steel so they resist rusting.
Fittings with a rotating flange turn so you can easily match up the bolt holes with another flange that may be misaligned.
Butt-weld flanges provide a flush connection for smooth flow through your line.
Socket-connect flanges are easier to weld than butt-weld flanges because they don't need to align perfectly to tubing; insert the tubing into the socket end and weld together.
Caps are also known as blind flanges.
Bolt kits are required to make a complete connection.
Flow Sights for High Vacuum
Peer through the glass on these flow sights to see what's happening in your high-vacuum line. These flow sights are often used to check the progress of fluids, gases, or probes entering the vacuum system, or to confirm that contaminants have been pumped out. They can also be used as an insulator or low-voltage electrical break on high-vacuum tube lines. The body is 304 stainless steel, which emits less gas into a vacuum than other types of metal and does not corrode in water. The glass tube and stainless steel body are fused together to eliminate leaks. These flow sights are also known as glass tube adapters. Not for use in pressure applications.
Bolt flow sights with a flanged connection to another flange with a copper gasket (sold separately) in between. These flanges are also known as CF, Conflat, and UHV connections.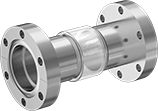 Flanged
For
Tube
OD
Flange
OD
Trade
Number
High Vacuum
Connection
Type

Temp.




Range,




°F

Dia.

Lg.

End-to-End




Lg.

Ht.

Max.


Vacuum
Each

304 Stainless Steel Body

2

1/2

"
4

1/2

"
63
CF
-320° to 750°
2

1/2

"
1"
5

1/8

"
4

1/2

"
1 × 10 -10 torr @ 72° F
0000000
000000000
2

1/2

"
4

1/2

"
63
CF
-320° to 750°
2

1/2

"
6"
10

1/8

"
4

1/2

"
1 × 10 -10 torr @ 72° F
0000000
00000000

Gasket