Press-Fit

Framing and Fittings
No need for fasteners—friction holds this framing together. Use press-fit framing and fittings to assemble carts, enclosures, and partitions.
For technical drawings and 3-D models, click on a part number.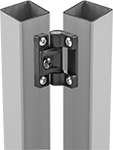 Hinges have four mounting holes; drill matching holes in the rails and secure with the included fasteners.
Floor,

Wall,

and Ceiling Plates

Steel and Zinc
Add a finishing touch to the area around protruding pipes with these corrosion-resistant plates, which are also known as escutcheons.
Steel and zinc plates hinge open and close tightly around pipe.