Tapered Round Bellows with Cuff End and Flange End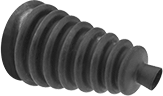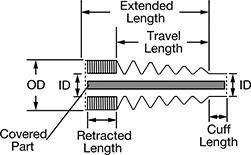 Attach the cuff end with a hose clamp (not included), and screw mount the flange end. Also known as boots, these bellows are often used on CV joints. All are molded, which means they're airtight to keep contaminants out. Air venting may be necessary in fast-cycling applications. Slide these bellows over moving parts, such as rods and shafts.
0.04″-0.07″ thick bellows are more durable than 0.02″-0.04″ thick bellows, making them good for applications where parts are constantly moving.
Cuff
Flange
OD
Extended
Retracted
Travel
Cuff


Lg.

Material

Temp.




Range,

°F

Mounting
Fasteners
Included
Each

Protects Against Abrasive

Grit,

Acid,

Cutting

Fluid,

Dust,

Metal

Chips,

Oil,

Salt

Water,

Synthetic

Oil,

Water,

Wood Chips

0.02"-0.04"

Material

Thick.

3/8

"
2"
2

1/2

"
1

3/4

"

1/2

"
1

1/4

"

3/8

"
Neoprene Rubber
0° to 220°
No
0000000
000000

1/2

"
1

1/4

"
1

3/4

"
5

1/2

"
1

5/16

"
4

3/16

"

1/4

"
Neoprene Rubber
0° to 220°
No
0000000
00000
1"
3

1/2

"
4

3/4

"
6"
1

1/2

"
4

1/2

"
1"
Neoprene Rubber
0° to 220°
No
0000000
00000

0.04"-0.07"

Material

Thick.

3/8

"
2"
3

1/4

"
1

3/4

"

1/2

"
1

1/4

"

3/8

"
Neoprene Rubber
0° to 220°
No
0000000
00000

1/2

"
1

1/4

"
2"
5

1/2

"
1

5/16

"
4

3/16

"

1/4

"
Neoprene Rubber
0° to 220°
No
0000000
00000
1"
3

1/2

"
4

1/2

"
6"
1

1/2

"
4

1/2

"
1"
Neoprene Rubber
0° to 220°
No
0000000
00000