Arbors for
Threaded-Stud

Flap Sanding Wheels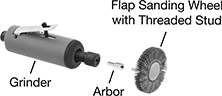 Use flap sanding wheels with a threaded stud in tools that accept a shank. Arbors are also known as mandrels.
For technical drawings and 3-D models, click on a part number.
Arbor Hole Reducers for
Arbor-Mount

Flap Sanding Wheels

Reduce the arbor hole size on a flap sanding wheel so that it fits the shaft on your tool. These reducers come in pairs. To install, snap a reducer into the arbor hole on both sides of the sanding wheel.
Arbors for
Arbor-Mount

Flap Sanding Wheels
Adapters for
Threaded-Stud

Flap Sanding Wheels
Flap Sanding Sleeve Drums for
Hand-Held

Power Tools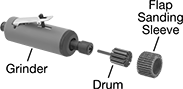 Slide a flap sanding sleeve on the drum and twist the drum by hand to secure the sleeve. The shank on these drums installs directly into the collet of a grinder or the chuck on a hand-held drill. A drum is required to use a sanding sleeve.