Flexible-Shaft

Grinding Attachments


Convert your bench-mount motor or drill to a flexible-shaft grinder.
Max.




Speed,


rpm
Shaft


Lg.

Bend
Radius
For
Shaft


Dia.

Includes
Each
15,000
34"
4"

1/4

"
One each:

3/32

" Collet,

1/8

" Collet,

1/4

" Collet, Collet Wrench, Handpiece, Lock Pin
0000000
0000000
Electric
Flexible-Shaft

Grinders for Bits and Burs
The bendable shaft with handpiece lets these grinders operate smoothly with less vibration, noise, and heat than other hand-held grinders.
For proper operation, clean and lubricate shafts every 50 hours of use.
3/4" diameter collet handpiece is well suited for fine, detailed applications.
1" diameter collet handpiece has a tapered front grip.
1" diameter chuck handpiece has a three-jaw chuck that accepts bits and burs with shank diameters up to 5/32".
Caution: Use only accessories that have a greater rpm rating than the maximum speed of the grinder you choose.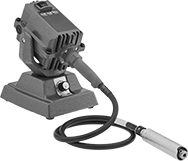 Bench Grinder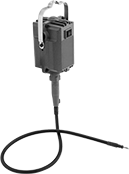 Hanging Grinder

For
Shank


Dia.

Handpiece


Dia.

Includes
Duty
Cycle

Max.




Speed,


rpm

Power,


hp
Voltage

Current,


A
Electrical
Connection

Dia.

Lg.

Switch
Type
Type
Switch
Type
Each

Bench Style

3/32

",

1/8

"

3/4

"

3/32

" Collet,

1/8

" Collet
Intermittent
18,000

1/6

120V AC
1.7
Plug

5/32

"
39"
Toggle
Variable
Dial
0000000
0000000

3/32

",

1/8

",

5/32

"
1"

5/32

" Chuck, Chuck Key
Intermittent
18,000

1/6

120V AC
1.7
Plug

5/32

"
39"
Toggle
Variable
Dial
0000000
000000

3/32

",

1/8

",

5/32

"
1"

5/32

" Chuck, Chuck Key
Continuous
15,000

1/3

120V AC
3.5
Plug

3/16

"
63"
Toggle
Variable
Foot Pedal
0000000
000000

3/32

",

1/8

",

1/4

"
1"

3/32

" Collet,

1/8

" Collet,

1/4

" Collet, Lock Pin, Wrench
Intermittent
18,000

1/6

120V AC
1.7
Plug

5/32

"
39"
Toggle
Variable
Dial
0000000
000000

3/32

",

1/8

",

1/4

"
1"

3/32

" Collet,

1/8

" Collet,

1/4

" Collet, Lock Pin, Wrench
Continuous
15,000

1/3

120V AC
3.5
Plug

3/16

"
63"
Toggle
Variable
Foot Pedal
0000000
000000

Hanging Style

3/32

",

1/8

"

3/4

"

3/32

" Collet,

1/8

" Collet
Intermittent
18,000

1/6

120V AC
1.7
Plug

5/32

"
39"
Toggle
Variable
Foot Pedal
0000000
000000

3/32

",

1/8

",

5/32

"
1"

5/32

" Chuck, Chuck Key
Intermittent
18,000

1/6

120V AC
1.7
Plug

5/32

"
39"
Toggle
Variable
Foot Pedal
0000000
000000

3/32

",

1/8

",

5/32

"
1"

5/32

" Chuck, Chuck Key
Continuous
15,000

1/3

120V AC
3.5
Plug

3/16

"
63"
Toggle
Variable
Foot Pedal
0000000
000000

3/32

",

1/8

",

1/4

"
1"

3/32

" Collet,

1/8

" Collet,

1/4

" Collet, Lock Pin, Wrench
Intermittent
18,000

1/6

120V AC
1.7
Plug

5/32

"
39"
Toggle
Variable
Foot Pedal
0000000
000000

3/32

",

1/8

",

1/4

"
1"

3/32

" Collet,

1/8

" Collet,

1/4

" Collet, Lock Pin, Wrench
Continuous
15,000

1/3

120V AC
3.5
Plug

3/16

"
63"
Toggle
Variable
Foot Pedal
0000000
000000
Replacement Parts and Optional Accessories
Each

Replacement Handpieces and Flexible Shafts

Replacement 39" Lg. Flexible Shaft for Intermittent-Duty Grinders
0000000
000000
Replacement 63" Lg. Flexible Shaft for Continuous-Duty Grinders
0000000
000000

3/4

" Dia. Replacement Handpiece for Intermittent-Duty Grinders
0000000
00000
1" Dia. Replacement Handpiece for Intermittent-Duty Grinders
0000000
00000
1" Dia. Replacement Handpiece for Continuous-Duty Grinders
0000000
00000
Replacement Chuck Handpiece for Intermittent Duty Grinders
0000000
00000
Replacement Chuck Handpiece for Continuous-Duty Grinders
0000000
00000

Optional Accessories

Motor Hanger
0000000
000000
Seven-Piece Collet Set for 1" Dia. Handpieces
0000000
00000