Float Switches for Slurries and Thick Liquids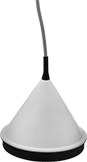 Float Switch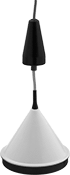 Float
Switch With
Adjustable Level
A polypropylene float makes these switches buoyant even in viscous liquids. Hang them in your tank for level monitoring that doesn't require installation through a tank wall.
Switches with adjustable level prevent excessive switch activation in tanks with fluctuating level. Adjust the set point by moving the weight along the cable or altering the cable length.
For technical drawings and 3-D models, click on a part number.
Cable


Lg.,




ft.

Min.


Specific
Gravity

Max.


Pressure

Temp.




Range,




°F

Switch
Starting
Position
Industry
Designation
Current
Set
Point

Dia.

Ht.

Electrical
Connection
Specifications
Met
Each

120V

AC/240V

AC Input Voltage

Polypropylene Plastic Float

16
0.7
28 psi @ 70° F
15° to 140°
1 Off (Normally Open)
SPST-NO
6 A @ 120 V AC
10"
6

3/4

"
6

1/8

"
Wire Leads
CSA Certified

00000000
0000000
16
0.7
28 psi @ 70° F
15° to 140°
1 On (Normally Closed)
SPST-NC
6 A @ 120 V AC
10"
6

3/4

"
6

1/8

"
Wire Leads
CSA Certified

00000000
000000
16
0.95
28 psi @ 70° F
15° to 140°
1 Off (Normally Open)
SPST-NO
6 A @ 120 V AC
10"
3"
4

7/8

"
Wire Leads
CSA Certified

00000000
000000
16
0.95
28 psi @ 70° F
15° to 140°
1 On (Normally Closed)
SPST-NC
6 A @ 120 V AC
10"
3"
4

7/8

"
Wire Leads
CSA Certified

00000000
000000

Polypropylene Plastic Float with Adjustable Level

16
0.7
28 psi @ 70° F
15° to 140°
1 Off (Normally Open)
SPDT
6 A @ 120 V AC
10"-50"
6

3/4

"
6

1/8

"
Wire Leads
CSA Certified

00000000
000000
16
0.7
28 psi @ 70° F
15° to 140°
1 On (Normally Closed)
SPDT
6 A @ 120 V AC
10"-50"
6

3/4

"
6

1/8

"
Wire Leads
CSA Certified

00000000
000000
16
0.95
28 psi @ 70° F
15° to 140°
1 Off (Normally Open)
SPDT
6 A @ 120 V AC
10"-40"
3"
4

7/8

"
Wire Leads
CSA Certified

00000000
000000
16
0.95
28 psi @ 70° F
15° to 140°
1 On (Normally Closed)
SPDT
6 A @ 120 V AC
10"-40"
3"
4

7/8

"
Wire Leads
CSA Certified

00000000
000000