Float Valve Bodies for Water
Combine these float valve bodies with floats and rods (not included) to create float valves that meet exact specifications.
Float valve bodies with a discharge outlet release contents into your tank; the outlet is unthreaded.
For technical drawings and 3-D models, click on a part number.
NPT Male Inlet × NPT Male Outlet

Npt Male
Inlet ×
Npt Male Outlet
Inlet
Pipe Size

Outlet
Pipe Size

Flow Rate

Max.




Pressure,

psi
Thread
Size

Material

Temp.




Range,

°F

Each

3/8

3/8

9.8 gpm @ 50 psi
125

1/4

"-20

Brass

35° to 180°
0000000
000000

1/2

1/2

15 gpm @ 50 psi
125

1/4

"-20

Brass

35° to 180°
0000000
00000

3/4

3/4

26.3 gpm @ 50 psi
100

1/4

"-20

Brass

35° to 180°
0000000
00000
1

1

49.7 gpm @ 50 psi
100

1/4

"-20

Brass

35° to 180°
0000000
00000

Fluoroelastomer Rubber Seal

3/8

3/8

9.8 gpm @ 50 psi
125

1/4

"-20

Brass

35° to 450°
0000000
00000

1/2

1/2

15 gpm @ 50 psi
125

1/4

"-20

Brass

35° to 450°
0000000
00000

3/4

3/4

26.3 gpm @ 50 psi
100

1/4

"-20

Brass

35° to 450°
0000000
00000
1

1

49.7 gpm @ 50 psi
100

1/4

"-20

Brass

35° to 450°
0000000
00000
NPT Female Inlet × NPT Female Outlet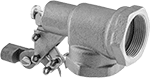 Npt Female
Inlet ×
Npt Female Outlet
Inlet
Pipe Size

Outlet
Pipe Size

Flow Rate

Max.




Pressure,

psi
For Rod
Thread Size

Material

Temp.




Range,

°F

Each
1

1/4

1

1/4

89 gpm @ 50 psi
125

1/4

"-20

Brass

35° to 180°
0000000
0000000
1

1/2

1

1/2

89 gpm @ 50 psi
125

1/4

"-20

Brass

35° to 180°
0000000
000000

Fluoroelastomer Rubber Seal

1

1/4

1

1/4

89 gpm @ 50 psi
125

1/4

"-20

Brass

35° to 450°
0000000
000000
1

1/2

1

1/2

89 gpm @ 50 psi
125

1/4

"-20

Brass

35° to 450°
0000000
000000
NPT Female Inlet × Discharge Outlet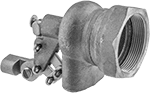 Npt Female
Inlet ×
Discharge Outlet
Inlet
Pipe Size

Wd.

Lg.

Flow Rate

Max.




Pressure,

psi
Pipe
Size

Thread
Type
Material

Temp.




Range,

°F

Each
1

1/4

3/4

"
2"
140 gpm @ 50 psi
115

1/8

NPT

Brass

35° to 180°
0000000
0000000
1

1/2

3/4

"
2"
140 gpm @ 50 psi
115

1/8

NPT

Brass

35° to 180°
0000000
000000
2

3/4

"
2"
125 gpm @ 50 psi
115

1/8

NPT

Brass

35° to 180°
0000000
000000

Fluoroelastomer Rubber Seal

1

1/4

3/4

"
2"
140 gpm @ 50 psi
115

1/8

NPT

Brass

35° to 450°
0000000
000000
1

1/2

3/4

"
2"
140 gpm @ 50 psi
115

1/8

NPT

Brass

35° to 450°
0000000
000000
2

3/4

"
2"
125 gpm @ 50 psi
115

1/8

NPT

Brass

35° to 450°
0000000
000000