Floats for Threaded Rods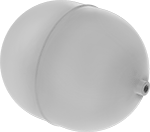 Oblong Polypropylene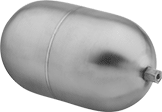 Oblong Stainless Steel and Copper
Connect these floats to threaded float rods (not included). Use them to replace an existing float or combine with rods and float valve bodies (not included) to build a float valve. All are for use with water.
Polypropylene floats are lightweight and have good corrosion resistance.
Stainless steel floats have excellent corrosion resistance and are also for use with oil.
Cylindrical and rectangular floats are self-tapping, except 4" dia. floats have a threaded hose connection.

Oblong
The through-hole connection allows these floats to slide up and down a vertical float rod (not included). Use clamps (not included) to set them in a fixed position.
For technical drawings and 3-D models, click on a part number.
Copper Oblong Floats—For Use With Water
Dia.

Lg.

Through
Hole

Dia.

Max.


Pressure

Temp.




Range,

°F

Gauge
For Container
Type
Each
3"
7"

1/4

"
Not Rated
35° to 180°
24 ga.
Open Tank
0000000
000000
3"
7"

3/8

"
Not Rated
35° to 180°
24 ga.
Open Tank
0000000
00000
3"
7"

1/2

"
Not Rated
35° to 180°
24 ga.
Open Tank
0000000
00000
4"
7"

1/4

"
Not Rated
35° to 180°
24 ga.
Open Tank
0000000
00000
4"
7"

3/8

"
Not Rated
35° to 180°
24 ga.
Open Tank
0000000
00000
4"
7"

1/2

"
Not Rated
35° to 180°
24 ga.
Open Tank
0000000
00000
6"
8"

3/8

"
Not Rated
35° to 180°
24 ga.
Open Tank
0000000
000000
6"
10"

3/8

"
Not Rated
35° to 180°
24 ga.
Open Tank
0000000
000000