Flood Gates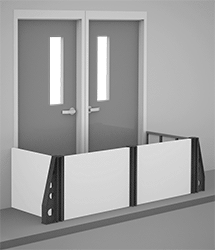 Shown with Multiple Gates and Connectors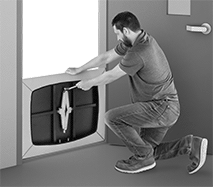 Shown Installed in Standard Doorway
Protect your facility from flooding and water damage. The steel plates on these gates handle the pressure of flood waters, and the neoprene sleeve seals out water at the base and sides. Create a tight fit by adjusting the scissor jack and the four bolts—the scissor jack exerts horizontal pressure, and the bolts make a secure seal at the base. Use multiple gates for wider entryways or to surround machinery.
Use connector kits (sold separately) to link multiple gates together. Kits include a base, angle brackets, and a post to join gates side by side or at a 90° angle. After you've installed the base in concrete, setting up and taking down gates is easy. The base sits flush with the ground, so it won't get in the way when gates are not in use.
When securing gates against doorways made of uneven materials, such as masonry, seal edges with silicone caulk (sold separately).
For technical drawings and 3-D models, click on a part number.
Wd.

Ht.

Thick.

For

Min.

Door
Frame

Dp.

For

Max.


Water

Dp.

Material
Material
Color
Includes
Each
25"-30"
26"
1

1/8

"
1

1/2

"
23"
Steel
Neoprene Rubber
Orange
Ratchet Wrench
0000000
0000000
30"-35"
26"
1

1/8

"
1

1/2

"
23"
Steel
Neoprene Rubber
Orange
Ratchet Wrench
0000000
000000
35"-40"
26"
1

1/8

"
1

1/2

"
23"
Steel
Neoprene Rubber
Orange
Ratchet Wrench
0000000
000000
40"-45"
26"
1

1/8

"
1

1/2

"
23"
Steel
Neoprene Rubber
Orange
Ratchet Wrench
0000000
000000
45"-50"
26"
1

1/8

"
1

1/2

"
23"
Steel
Neoprene Rubber
Orange
Ratchet Wrench
0000000
000000