About Flowmeters and Totalizers
Flowmeters measure the rate of flow for a liquid or a gas. Totalizers measure the cumulative flow volume. Flowmeter/totalizers display both the flow rate and the cumulative flow volume.
Flowmeter/Totalizers

for Water and Chemicals
To withstand water and a variety of caustic chemicals, these flowmeter/totalizers have a corrosion-resistant 316 stainless steel body. They measure both flow rate and total flow volume. The batch total volume can be reset after each metering application. The total flow volume cannot be reset. They have an enclosure that meets NEMA 4 for protection from dirt and washdowns.
Flowmeter/totalizers with threaded connections have 316 stainless steel seals, which resist corrosion.
Connect flowmeter/totalizers with quick-clamp connections to other quick-clamp fittings (often called tri-clamp fittings) using a gasket and clamp. They're easy to attach and remove for cleaning.
Certificate of calibration traceable to NIST states that the flowmeter/totalizer has passed a test for accuracy.
Optional output module transmits output signals to an external device such as a data recorder, logger, or remote display (not included). It includes 10 feet of cable with wire leads.
Optional remote panel-mounting kit lets you mount the meter's display up to 100 feet away. It includes a sensor module and 10 feet of cable with wire leads.
Hazardous location environmental ratings indicate where manufacturers have included safety features in products to facilitate their safe use in hazardous environments. Before selecting a product for a hazardous location, ensure it is rated for your environment. See About Hazardous Location Environmental Ratings.
With Threaded Pipe Connections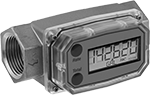 With Threaded Pipe Connections
Pipe
Connections

End-to-End




Lg.

Flow


Range,


gpm
Accuracy

Max.

Total


Volume,


units

Max.


Pressure
Each
Each
Each

316 Stainless Steel Body and

Seal—

14°

to

140° F

Gallons per

Minute,

Liters per Minute

1/2

NPT Female

4

1/4

"
1 to 10
±1.5%
999,999
1500 psi @ 70° F
00000000
0000000
00000000
0000000
00000000
0000000

3/4

NPT Female

4

3/8

"
2 to 20
±1%
999,999
1500 psi @ 70° F
00000000
000000
00000000
000000
00000000
000000
1 NPT Female

4

1/2

"
5 to 50
±1%
999,999
1500 psi @ 70° F
00000000
000000
00000000
000000
00000000
000000
1

1/2

NPT Female

5

3/8

"
10 to 100
±0.75%
999,999
1500 psi @ 70° F
00000000
00000000
00000000
000000
00000000
000000
2 NPT Female

6

3/8

"
20 to 200
±0.75%
999,999
1500 psi @ 70° F
00000000
00000000
00000000
000000
00000000
000000

Flowmeter/Totalizers

with Certificate of Calibration Traceable to NIST

316 Stainless Steel Body and

Seal—

14°

to

140° F

Gallons per

Minute,

Liters per Minute

1/2

NPT Female

4

1/4

"
1 to 10
±1.5%
999,999
1500 psi @ 70° F
00000000
00000000
00000000
000000
00000000
000000

3/4

NPT Female

4

3/8

"
2 to 20
±1%
999,999
1500 psi @ 70° F
00000000
00000000
00000000
000000
00000000
000000
1 NPT Female

4

1/2

"
5 to 50
±1%
999,999
1500 psi @ 70° F
00000000
00000000
00000000
000000
00000000
000000
1

1/2

NPT Female

5

3/8

"
10 to 100
±0.75%
999,999
1500 psi @ 70° F
00000000
00000000
00000000
000000
00000000
000000
2 NPT Female

6

3/8

"
20 to 200
±0.75%
999,999
1500 psi @ 70° F
00000000
00000000
00000000
000000
00000000
000000
With Quick-Clamp Tube Connections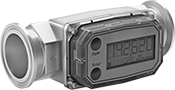 With
Quick-Clamp
Tube Connections
Quick-Clamp


Tube
Connections

Type
Gender
For
Tube
OD
Flange
OD

End-to-End




Lg.

Flow


Range,


gpm
Accuracy

Max.

Total


Volume,


units

Max.


Pressure
Each
Each

316 Stainless Steel Body and

Seal—

14°

to

140° F

Gallons per

Minute,

Liters per Minute

Standard
Female

3/4

"
0.984"
5"
1 to 10
±1.5%
999,999
1500 psi @ 70° F
0000000
000000000
00000000
0000000
Standard
Female
1"
1.984"
5"
2 to 20
±1%
999,999
1500 psi @ 70° F
0000000
00000000
00000000
000000
Standard
Female
1

1/2

"
1.984"
5

1/2

"
5 to 50
±1%
999,999
1500 psi @ 70° F
0000000
00000000
00000000
000000
Standard
Female
2"
2.515"
6

1/2

"
10 to 100
±0.75%
999,999
1500 psi @ 70° F
0000000
00000000
00000000
000000
Standard
Female
2

1/2

"
3.047"
7"
20 to 200
±0.75%
999,999
1500 psi @ 70° F
0000000
00000000
00000000
000000

Flowmeter/Totalizers

with Certificate of Calibration Traceable to NIST

316 Stainless Steel Body and

Seal—

14°

to

140° F

Gallons per

Minute,

Liters per Minute

Standard
Female

3/4

"
0.984"
5"
1 to 10
±1.5%
999,999
1500 psi @ 70° F
0000000
00000000
00000000
000000
Standard
Female
1"
1.984"
5"
2 to 20
±1%
999,999
1500 psi @ 70° F
0000000
00000000
00000000
000000
Standard
Female
1

1/2

"
1.984"
5

1/2

"
5 to 50
±1%
999,999
1500 psi @ 70° F
0000000
00000000
00000000
000000
Standard
Female
2"
2.515"
6

1/2

"
10 to 100
±0.75%
999,999
1500 psi @ 70° F
0000000
00000000
00000000
000000
Standard
Female
2

1/2

"
3.047"
7"
20 to 200
±0.75%
999,999
1500 psi @ 70° F
0000000
00000000
00000000
000000