Threaded Isolation
On/Off

Valves for Chemicals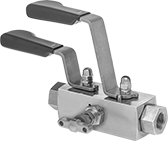 Valve

Type:

Ball

For Use

With:

Acetone,

Air,

Ammonia,

Argon,

Carbon

Dioxide,

Deionized

Water,

Diesel

Fuel,

Ethanol,

Fuel

Oil,

Gasoline,

Helium,

Isopropyl

Alcohol,

Kerosene,

Krypton,

Methanol,

Neon,

Xenon,

Xylene
Ball

Material:

316 Stainless Steel
Seal

Material:

PTFE Plastic
Seat

Material:

PEEK Plastic
Specifications

Met:

ASME

B16.

34
Attach gauges or sensors to these valves so you can remove them for maintenance and calibration without depressurizing your line. Also known as block and bleed valves, turn the handles to block both upstream and downstream flow, drain the liquid trapped in the valve through the bleed port, and then remove your instrument from the gauge port. Often used in chemical-processing lines, these valves have a PTFE seal and a corrosion-resistant 316 stainless steel body. All are standard port, so they slightly restrict flow.
Flow coefficient (Cv) is the amount of water (in gallons per minute) at 60° F that will flow through a fully open valve with a difference of 1 psi between the inlet and the outlet.
For technical drawings and 3-D models, click on a part number.
Pipe
Size

Pipe
Size

Gender
Thread
Type
Flow
Coefficient

(Cv)

Max.

Pressure
Temperature


Range,

°F

Each

316 Stainless Steel Body

NPT Female × NPT Female

1/2

1/4

Female
NPT

6.4
10000 psi @ 170° F
-65° to 450°
0000000
0000000