About Safety Ratings for Electrical Testing
Fluke Insulation Testing Multimeters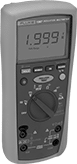 Check insulation quality in electrical equipment such as motors and power tools. You can also take other electrical measurements with these Fluke multimeters, known for quality and durability.
These true RMS multimeters take accurate AC measurements regardless of the load type or sine wave shape. This is important for testing electronic devices that draw current in short pulses that can distort the shape of the wave, such as computers and adjustable-speed drives.
Display count is an industry designation and not an actual value. These 6,000-count multimeters show numbers up to 5,999.
Multimeters with calibration certificate include a NIST-traceable document stating that they have passed a test for accuracy.
Manufacturer
Model
Number
Safety
Rating
Measures

Max.


AC
Voltage

Max.


DC
Voltage
DC
Voltage
Accuracy

Max.

AC


Current,


mA

Max.

DC


Current,


mA
Hardware
Features
Display
Count
Includes
Environmental
Rating
Each

Multimeters

True RMS AC Calculation

1587 FC
CAT IV, 600V
AC Voltage, Capacitance, Current, DC Voltage, Frequency, Resistance, Temperature
1,000
1,000
0.09%
400
400
Overload Protection
6,000
Alligator Clips, Hard Case, Remote Probe, Temperature Probe, Test Leads
IP40
0000000
0000000

Multimeters with Calibration Certificate

True RMS AC Calculation

1587 FC
CAT IV, 600V
AC Voltage, Capacitance, Current, DC Voltage, Frequency, Resistance, Temperature
1,000
1,000
0.09%
400
400
Overload Protection
6,000
Alligator Clips, Hard Case, Remote Probe, Temperature Probe, Test Leads
IP40
00000000
000000