About Safety Ratings for Electrical Testing
Fluke
Open-Jaw

Multimeters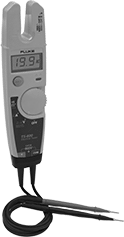 Run a cable through the open jaw to test current without interrupting the circuit. These multimeters are especially useful for high current measurements and include test leads to perform other electrical tests. Fluke multimeters are known for quality and durability.
All are average sensing, so they take accurate AC measurements when testing equipment that has a linear load and draws current in a smooth sine wave, such as standard induction motors.
Display count is an industry designation and not an actual value. These 1,000-count multimeters show numbers up to 999.
Multimeters with calibration certificate include a document stating that they have passed a test for accuracy.
Manufacturer
Model
Number
Jaw
Opening
Safety
Rating
Measures

Max.


AC
Voltage

Max.


DC
Voltage
DC
Voltage
Accuracy

Max.

AC


Current,


A
Display
Count
Includes
Each

Multimeters

Average Sensing AC Calculation

T5-600
0.5"
CAT III, 600V
AC Voltage, Current, DC Voltage, Resistance
600
600
1%
100
1,000
Test Leads
0000000
0000000

Multimeters with Calibration Certificate

Average Sensing AC Calculation

T5-600
0.5"
CAT III, 600V
AC Voltage, Current, DC Voltage, Resistance
600
600
1%
100
1,000
Test Leads
0000000
000000