About Safety Ratings for Electrical Testing
Voltage Detectors
Confirm that voltage is present in receptacles, cables, and other electrical components. The detectors have light or sound alerts to indicate voltage.
Long-reach tips, tests leads with sheathed alligator clips, and test leads with needle tips must touch the electrical component you're testing to sense voltage.

Connection
Type
Manufacturer
Model
Number
Safety
Rating
AC
Voltage
Measures
Alert
Type
Required
Included
Specifications
Met
Each
Long-Reach Tip
1AC-II
CAT IV, 1,000V
90-1,000
AC Voltage
Light, Sound
Yes
Yes
CSA Certified, CSA-US Certified
0000000
000000
Long-Reach Tip
1LAC-II
CAT IV, 1,000V
20-90
AC Voltage
Light, Sound
Yes
Yes
CSA Certified, CSA-US Certified
0000000
00000
Fluke Vibrating Voltage Testers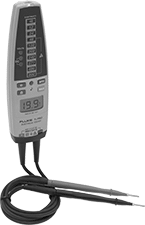 Detect voltage with three types of alerts for extra safety—light, sound, and vibration. There are LEDs that light up to show the approximate voltage level, and a digital LCD shows precise voltage measurements. Fluke testers are known for quality and durability.
Manufacturer
Model
Number
Measures
Measurement
Increments

Max.




Resistance,


kilohms
Alert
Type
Display
Type
Display
Features
Includes
Lead


Lg.

Safety
Rating
Specifications
Met
Batteries
Included
Each
T+Pro
AC Voltage, Continuity, DC Voltage, Resistance
12V, 24V, 48V, 120V, 208V, 240V, 277V, 480V, 600V
10
Light, Sound, Vibration
Digital, Light Indicator
Backlight
Test Leads
34"
CAT IV, 600V
UL Listed, C-UL Listed

Yes
0000000
0000000
| | | | |
| --- | --- | --- | --- |
| Optional Holster (Fluke Model No. H3) | 0000000 | Each | 000000 |
Light Bulb and Ballast Testers

Determine whether your bulb or ballast has failed without replacing bulbs or dismantling fixtures. Touch the probe against a bulb to diagnose the problem. The probe extends up to 3 ft.
For Light
Technology
Probe


Lg.,

ft.

Batteries
Included
Each
Fluorescent
3
Yes
000000
0000000