Sticky Fly Paper
Paper cannot be sold to Canada due to import regulations
Ribbon hangs from ceilings or ledges and is sticky on both sides.
Sheet lines windows and other flat surfaces. It's sticky on one side with an adhesive strip on the other side.
Lighted Insect Glue Traps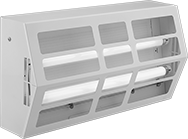 Use this quiet, indoor trap to lure and kill flying insects with UV light bulbs which are placed next to sticky glue boards.
Glue board set includes replacement bottom and back glue boards.