Spiral Router Bits for Foam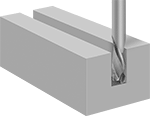 Square Cut Style

The cutting edges of these bits have a shallow angle to carve foam quickly and accurately. With a square cut style, they create slots, pockets, and edges. Their spiral flutes leave a smooth finish and are good for making plunge cuts. All are made of solid carbide for a long tool life and fast cutting speeds. The extreme hardness of carbide bits means they are brittle, so a highly rigid setup, such as a CNC machine, is necessary to prevent the bit from breaking.
Bits with upward chip removal lift chips up for applications that need a smooth finish on the bottom edge of the cut. Securely clamp your workpiece in place before routing to prevent the piece from lifting.
Bits with downward chip removal push chips down for applications that require a smooth finish on the cut's top edge.
For technical drawings and 3-D models, click on a part number.
Cutting


Dia.

Lg.

of
Cut
Shank


Dia.

Overall


Lg.

Number
of Flutes
For Tool Type
Each

Uncoated Carbide

Spiral Flutes with Upward Chip Removal

1/8

"
1

1/8

"

1/4

"
2

1/2

"
2
CNC Machine
0000000
000000

3/16

"
1

5/8

"

3/16

"
4"
2
CNC Machine
0000000
00000

1/4

"
2

1/4

"

1/4

"
4"
2
CNC Machine
0000000
00000

Spiral Flutes with Downward Chip Removal

1/8

"
1

1/16

"

1/8

"
3"
2
CNC Machine
0000000
00000

1/4

"
2

1/4

"

1/4

"
4"
2
CNC Machine
0000000
00000