Ultra-Flexible

Adhesive-Mount

Heaters for Tanks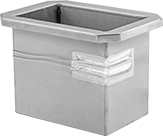 Also known as foil heaters, these bend around tank corners and edges without damaging the heating element. They permanently adhere to container surfaces to heat contents without direct contact. All have a pressure-sensitive adhesive back for easy installation. Heaters require a temperature switch or controller (sold separately) to regulate heat output.
Note: Do not cut or overlap these heaters—this will damage the heating element. Use a roller during installation to remove air pockets and ensure direct surface contact. Once heaters have been applied to a surface, they cannot be removed and reused.
For technical drawings and 3-D models, click on a part number.
Lg.

Wd.

Wattage,


W
Watt


Density,




W/sq.

in.

Voltage
Electrical
Phase

Current,


A

Thick.

Max.

Heat


Output,




°F

Environment


Temp.




Range,

°F

Wire
Lead


Lg.

For
Surface
Material
Material
Each

Rectangle

6"
2"
25
2.1
120V AC
Single
0.2
0.2"
300°
-40° to 300°
18"
Fiberglass, Metal, Plastic
Aluminum Foil
0000000
000000
6"
4"
60
2.5
120V AC
Single
0.5
0.2"
300°
-40° to 300°
18"
Fiberglass, Metal, Plastic
Aluminum Foil
0000000
00000
10"
2"
50
2.5
120V AC
Single
0.4
0.2"
300°
-40° to 300°
18"
Fiberglass, Metal, Plastic
Aluminum Foil
0000000
00000
10"
4"
110
2.8
120V AC
Single
0.9
0.2"
300°
-40° to 300°
18"
Fiberglass, Metal, Plastic
Aluminum Foil
0000000
00000
10"
6"
170
2.8
120V AC
Single
1.4
0.2"
300°
-40° to 300°
18"
Fiberglass, Metal, Plastic
Aluminum Foil
0000000
00000
12"
2"
60
2.5
120V AC
Single
0.5
0.2"
300°
-40° to 300°
18"
Fiberglass, Metal, Plastic
Aluminum Foil
0000000
00000
12"
4"
130
2.7
120V AC
Single
1.1
0.2"
300°
-40° to 300°
18"
Fiberglass, Metal, Plastic
Aluminum Foil
0000000
00000
12"
6"
205
2.8
120V AC
Single
1.7
0.2"
300°
-40° to 300°
18"
Fiberglass, Metal, Plastic
Aluminum Foil
0000000
00000
24"
6"
420
2.9
120V AC
Single
3.5
0.2"
300°
-40° to 300°
18"
Fiberglass, Metal, Plastic
Aluminum Foil
0000000
000000

Square

6"
6"
95
2.6
120V AC
Single
0.8
0.2"
300°
-40° to 300°
18"
Fiberglass, Metal, Plastic
Aluminum Foil
0000000
00000