Metal-

and

X-Ray-Detectable

Antifatigue Mats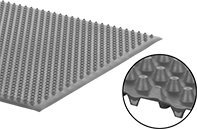 Add these mats to workstations, walkways, and shelves in your sanitary facility for a cushioned, slip-resistant surface. They're also called ergonomic mats. They have metal and chemical additives, so if part of the mat gets into your line, it'll set off metal detectors and show up on X-rays. These mats help you comply with Hazard Analysis and Critical Control Point (HACCP) programs to keep contaminated food from leaving your facility. They're also FDA compliant for direct contact with food.
Surface projections on both sides of these mats cushion hard floors and reduce the strain of standing for long periods. They also add traction so you don't slip. In addition to work areas, they're often used to line shelves and utility carts. The projections are spread out to let air and liquids flow through, so bacteria doesn't grow in between them.
Made from EPDM rubber, these mats are durable and hold up to abrasion. They won't break down from frequent washdowns with water, cleaners, and harsh sanitizers. Use different colors in different areas of your facility to reduce the risk of cross-contamination. Each side is a different color to make sure that you always use the same side for food contact. Color coding is often used to help plants follow Good Manufacturing Practices (GMPs).
Width
Length
Thickness
Mat
Hardness
Material
Edge
Profile
For
Use
Outdoors
Specifications
Met
Color
Each

Projections

21"
27"

5/8

"
Firm
EPDM Rubber
Flat
Yes
FDA Compliant 21 CFR 177.2600

Blue/Black
0000000
000000
21"
27"

5/8

"
Firm
EPDM Rubber
Flat
Yes
FDA Compliant 21 CFR 177.2600

Red/Black
0000000
00000
21"
27"

5/8

"
Firm
EPDM Rubber
Flat
Yes
FDA Compliant 21 CFR 177.2600

White/Black
0000000
00000
21"
27"

5/8

"
Firm
EPDM Rubber
Flat
Yes
FDA Compliant 21 CFR 177.2600

Yellow/Black
0000000
00000