Sanitary Bulk Dispensers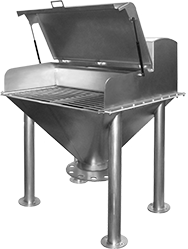 Add dry ingredients to dairy, food, and pharmaceutical lines using these bulk dispensers, which have a 3-A certified sanitary design. Made of 304 stainless steel, they won't rust after frequent washdowns with harsh cleaners and sanitizers. To minimize bacteria growth, they have polished interior surfaces, rounded edges, continuously welded seams that are ground smooth, and a sloped shape that drains all liquids and most powders and pellets. Connecting and removing these dispensers from your line is easy thanks to their two sanitary quick-clamp connections. Use the top connection to clean-in-place (CIP) and the back connection to hook up another line, such as a vacuum filter for managing dust when you're dumping powders.
These dispensers have a waist-high opening for depositing ingredients into your line, so you don't have to lift heavy bags high up or empty them while bent over. Their opening is covered by a rod grate that stops bags from falling in and gives you a spot to set bags down as you pour in their contents; the grate is removable for easy cleaning. These dispensers are also known as bag dump stations.
To prevent particles in the air from contaminating your line when you aren't using these dispensers, they have a hinged door that closes smoothly using gas springs. The door is connected to a limit switch for wiring vacuum systems and other equipment to turn on when the door opens, which helps you adhere to Good Manufacturing Practices (GMPs). Rated NEMA 4, the switch stands up to outdoor and washdown conditions.
For connecting screw feeders, valves, and other process equipment, use the ANSI 150 flanged connection on the bottom of these dispensers.
Cap.,




cu.




ft.

Wd.

Dp.

Ht.

Loading


Ht.

Dispensing


Ht.

Slope
Angle
Material
Interior


Smoothness,


Ra
Switching
Current
Switching
Voltage

Dia.

No.


of
Specifications
Met
Each
8
40"
48"
59"
38"
13

1/2

"
55°
304 Stainless Steel
32
10A
600V AC, 250V DC

7/16

"
16
3-A Certified 39-01
0000000
0000000000
Food Industry Bulk Dispensers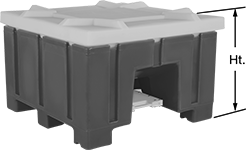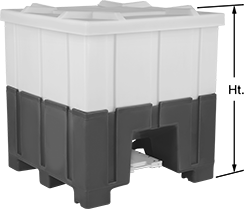 FDA compliant for direct contact with food, these dispensers are often used to store or quickly dispense dry ingredients in food and pharmaceutical plants. Made of durable polyethylene, which resists chemicals and corrosion, they have a smooth, seamless interior to minimize the space where bacteria can grow. They're also lightweight, so you can easily move them, even when they are full.
These dispensers have an open top for easy filling and cleaning; they have a V-shaped bottom for easy dispensing. Pull the handle to open the slide gate and release the contents. The farther you pull the handle, the faster you will dispense the contents. Both dispensers fit into an included base, which creates a double wall to protect the bottom from damage. It also keeps the slide gate from accidentally opening. You can use a forklift or pallet jack to lift the base and move these dispensers around your plant. A removable lid keeps contaminants out of your ingredients.
When full, you can stack these dispensers two-high. Empty dispensers can be nested even higher to save more space.
Cap.,




lbs.

Wd.

Dp.

Ht.

Dispensing
Opening


Dia.

Material
Color
Space
Saving
Features
Specifications
Met
Includes
Each
2,000
44"
44"
31"
10"
Polyethylene Plastic
Blue/White
Nestable
FDA Compliant 21 CFR 177.1520

24" × 13" Slide Gate, Removable Lid
0000000
000000000
2,000
44"
44"
50"
10"
Polyethylene Plastic
Blue/White
Nestable
FDA Compliant 21 CFR 177.1520

24" × 13" Slide Gate, Removable Lid
0000000
00000000