About
Signal/Power

Connectors
Food Industry Micro M12
Screw-Together

Connectors
Safely use these connectors with 12 mm proximity switches, console lights, valves, and power supplies in food, beverage, and pharmaceutical applications—they're FDA compliant for direct food contact. All have a stainless steel and polypropylene housing and outer TPE rubber insulation, so they won't break down from high heat or washdowns with harsh cleaners and sanitizers. Because these connectors have a standardized pole layout, you can quickly connect or replace them.
These A-code connectors, mostly used in Europe, send signals and power to automated systems and Profibus systems. Their sockets may have extra holes on the face that are not used.
Connectors with a 90° elbow socket fit flush against equipment, so they're good for tight spaces.
For technical drawings and 3-D models, click on a part number.
Sockets with Wire Leads—Internal Thread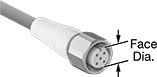 Straight Socket




Number
of
Poles
Number
of
Keyways
Coding
Face


Dia.

Voltage
Current
Wire
Lead
Gauge
Cable
OD
Size

Pitch,


mm
Type

Temp.




Range,




°F

Environmental
Rating
Each
3
1
A
0.3"
300V AC
4A
22
0.17"
M12
1
Metric
-40° to 220°
IP69K

0000000
000000
4
1
A
0.3"
300V AC
4A
22
0.19"
M12
1
Metric
-40° to 220°
IP69K

0000000
00000
5
1
A
0.3"
300V AC
4A
22
0.2"
M12
1
Metric
-40° to 220°
IP69K

0000000
00000
8
1
A
0.3"
300V AC
2A
24
0.24"
M12
1
Metric
-40° to 220°
IP69K

0000000
00000
3
1
A
0.3"
300V AC
4A
22
0.17"
M12
1
Metric
-40° to 220°
IP69K

0000000
00000
4
1
A
0.3"
300V AC
4A
22
0.19"
M12
1
Metric
-40° to 220°
IP69K

0000000
00000
5
1
A
0.3"
300V AC
4A
22
0.2"
M12
1
Metric
-40° to 220°
IP69K

0000000
00000
8
1
A
0.3"
300V AC
2A
24
0.24"
M12
1
Metric
-40° to 220°
IP69K

0000000
00000
3
1
A
0.3"
300V AC
4A
22
0.17"
M12
1
Metric
-40° to 220°
IP69K

0000000
00000
4
1
A
0.3"
300V AC
4A
22
0.19"
M12
1
Metric
-40° to 220°
IP69K

0000000
00000
5
1
A
0.3"
300V AC
4A
22
0.2"
M12
1
Metric
-40° to 220°
IP69K

0000000
00000
8
1
A
0.3"
300V AC
2A
24
0.24"
M12
1
Metric
-40° to 220°
IP69K

0000000
00000
90° Elbow Sockets with Wire Leads—Internal Thread





Number
of
Poles
Number
of
Keyways
Coding
Face


Dia.

Voltage
Current
Wire
Lead
Gauge
Cable
OD
Size

Pitch,


mm
Type

Temp.




Range,




°F

Environmental
Rating
Each
3
1
A
0.3"
300V AC
4A
22
0.17"
M12
1
Metric
-40° to 220°
IP69K

0000000
000000
4
1
A
0.3"
300V AC
4A
22
0.19"
M12
1
Metric
-40° to 220°
IP69K

0000000
00000
5
1
A
0.3"
300V AC
4A
22
0.2"
M12
1
Metric
-40° to 220°
IP69K

0000000
00000
8
1
A
0.3"
300V AC
2A
24
0.24"
M12
1
Metric
-40° to 220°
IP69K

0000000
00000
3
1
A
0.3"
300V AC
4A
22
0.17"
M12
1
Metric
-40° to 220°
IP69K

0000000
00000
4
1
A
0.3"
300V AC
4A
22
0.19"
M12
1
Metric
-40° to 220°
IP69K

0000000
00000
5
1
A
0.3"
300V AC
4A
22
0.2"
M12
1
Metric
-40° to 220°
IP69K

0000000
00000
8
1
A
0.3"
300V AC
2A
24
0.24"
M12
1
Metric
-40° to 220°
IP69K

0000000
00000
3
1
A
0.3"
300V AC
4A
22
0.17"
M12
1
Metric
-40° to 220°
IP69K

0000000
00000
4
1
A
0.3"
300V AC
4A
22
0.19"
M12
1
Metric
-40° to 220°
IP69K

0000000
00000
5
1
A
0.3"
300V AC
4A
22
0.2"
M12
1
Metric
-40° to 220°
IP69K

0000000
00000
8
1
A
0.3"
300V AC
2A
24
0.24"
M12
1
Metric
-40° to 220°
IP69K

0000000
00000