Specifications Met

Specifications Met
Show
Specifications Met

Specifications Met

Hide
Warning: Products have one, but not necessarily all, of the selected characteristics.
Office Stapler Style

Office Stapler Style
DFARS (Defense Acquisition Regulations Supplement)

DFARS

(Defense

Acquisition
Regulations

Supplement)
For Maximum Number of Sheets

For Maximum
Number of Sheets
Metal-Detectable

Staple-Free

Staplers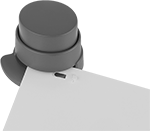 Connect pages without risking contamination in food-processing facilities. Instead of using staples that could fall into a batch, these staplers cut and fold a flap in paper for a secure hold. They contain metal additives to show up on metal detectors, helping you comply with Hazard Analysis and Critical Control Point (HACCP) programs. They're also bright blue, so they're easily spotted and removed from your line. These staplers are FDA compliant for direct contact with food.
For

Max.




No.

of
Sheets
Reach
Material
Color
Specifications
Met
Each

Staple Free

5
1"
Polypropylene Plastic
Blue
FDA Compliant 21 CFR 177.1520, FDA Compliant 21 CFR 178.2010, FDA Compliant 21 CFR 178.3297
0000000
000000