Digital Food Industry Pocket Thermometers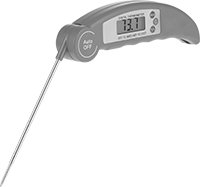 Metal-
and
X-Ray
Detectable
For easier viewing than dial thermometers for food and beverage, these thermometers show readings on an LCD. All meet standards for use in food-processing environments.
Metal- and X-ray-detectable thermometers contain metal and chemical additives, so they can be caught if they fall into your line, helping you comply with Hazard Analysis Critical Control Point (HACCP) programs. They're bright blue, so they're easily spotted and removed. The probe opens 180° to take temperatures at multiple angles. Unfold the probe to turn thermometers on, and fold it back into the handle for protection when not in use.
Optional wall-mount holders protect and help you keep track of metal- and X-ray detectable thermometers. Holders are also metal- and X-ray detectable, as well as bright blue.
Temperature
Range
Resolution
Accuracy
Color

Lg.

Dia.

Overall


Lg.

With


On/Off


Switch
Housing
Stem
Specifications
Met
Batteries
Included
Each

Metal-

and

X-Ray-Detectable

Thermometers

-58° to 572° F/-50° to 300° C
0.1/0.1
±2° F/±1° C
Blue
4

3/8

"

3/16

"
6

1/8

"
No
Plastic
Stainless Steel
FDA Compliant 21 CFR 177.1520, FDA Compliant 21 CFR 178.2010, FDA Compliant 21 CFR 178.3297
No
0000000
000000
| | | | |
| --- | --- | --- | --- |
| Optional Wall-Mount Holders for Metal- and X-Ray-Detectable Thermometers | 0000000 | Each | 000000 |
Thermal Imaging Cameras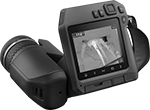 B
Detect hot spots, leaks, moisture problems, and construction defects invisible to the eye. These imaging guns translate thermal energy into a color image that indicates hotter areas as brighter and cooler areas as darker, so it's easy to identify and diagnose problems on instrument panels, HVAC systems, and other equipment. To review footage at a later date, use them to take photos and videos. The lower a camera's thermal sensitivity, the more precise heat differences it will detect for more detailed images. All are CE marked as meeting European standards for health, safety, and environmental protection. Some include a calibration certificate traceable to NIST stating they've passed a test for accuracy.
Adjustable Emissivity—For Dark, Dull, Light, Shiny Surfaces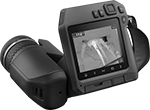 B
FDA compliant cameras are approved for use alongside other screening devices to detect differences in skin surface temperature. Use screening mode to scan large crowds of people, and these cameras will notify you when someone's temperature is above your specified range. Draw a square around a specific area to get its average temperature with the area box function, or target a specific object with the spot meter feature. A laser sight tells you how far you are from your target, so you know you're standing at a safe distance. Record verbal notes for documentation with the built-in microphone. These cameras connect to computers via Bluetooth, Wi-Fi, or a USB cable for quick data transfers.
Use cameras with a 2732° F maximum temperature in facilities with extremely hot equipment such as boilers and steam systems. A one-touch level/span function lets you focus on a single area by tapping the touch screen, giving you a temperature span and contrast level specific to that area. These cameras have a 180° rotating lens, so you can get a clear view of your target from any angle.
Temperature
Range
Thermal
Sensitivity


(NETD)

Resolution
Accuracy
Emissivity

Ht.

Wd.

Screen
Size
Housing
Material
Specifications
Met
Certification
Batteries
Included
Each
B
-4° to 2732° F/-20° to 1500° C
<40 mK
464×348
±2%
0.01 to 1
6

5/8

"
5

1/2

"
4"
Plastic
CE Marked; FDA Compliant 21 CFR 884.2980
__
Yes
0000000
0000000000
B
-4° to 2732° F/-20° to 1500° C
<40 mK
464×348
±2%
0.01 to 1
6

5/8

"
5

1/2

"
4"
Plastic
CE Marked; FDA Compliant 21 CFR 884.2980
Calibration Certificate Traceable to NIST
Yes
0000000
000000000
Non-Contact

Forehead Thermometers

These thermometers take touch-free readings in a single second with an infrared sensor. Unlike traditional thermometers, they don't need to be disinfected between uses, so you can quickly take temperatures from multiple people without the risk of spreading illness. The digital LCD display is easy to read even in dim lighting. These thermometers glow green, orange, or red to indicate normal, elevated, or high body temperatures.
All are registered with the FDA for use as a medical device. They also meet ISO 13485 standards for medical device design and manufacturing.
These thermometers cannot be sold to Canada due to import regulations.
Temperature
Range
Resolution
Accuracy

Max.


Distance
Response


Time,




sec.

Ht.

Dp.

Housing
Material
Specifications
Met
Batteries
Included
Cannot
Be
Sold To
Each
95° to 107° F/35° to 42° C
0.1° F/0.1° C
±0.4° F/±0.2° C
1"
1
5"
1

1/2

"
Plastic
FDA Registered, Class II Medical Device; ISO 13485
Yes
Canada
000000
0000000