Fork Extensions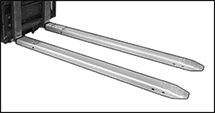 Add length to the forks on a forklift for extra support of long and large loads. Steel loops secure these extensions to the forks.
Note: Extensions reduce the capacity of a forklift. Please refer to your forklift manufacturer for load capacity reductions. OSHA standards require that length of extensions is 150% or less of the supporting fork length.
Warning: Never use to lift people or items over people.
For

Min.


Fork

Wd.

For

Max.


Fork

Wd.

For

Max.


Fork

Ht.

Capacity per


Pair,

lbs.

Thick.

Material
Color
Pair
4"
4

1/2

"
2"
4,000

5/16

"
Powder-Coated Steel
Yellow
0000000
0000000
5"
5

1/2

"
2"
4,000

5/16

"
Powder-Coated Steel
Yellow
0000000
000000
6"
6

1/2

"
2

1/2

"
4,000

5/16

"
Powder-Coated Steel
Yellow
0000000
000000
4"
4

1/2

"
2"
4,000

5/16

"
Powder-Coated Steel
Yellow
0000000
000000
5"
5

1/2

"
2"
4,000

5/16

"
Powder-Coated Steel
Yellow
0000000
000000
6"
6

1/2

"
2

1/2

"
4,000

5/16

"
Powder-Coated Steel
Yellow
0000000
000000
4"
4

1/2

"
2"
4,000

5/16

"
Powder-Coated Steel
Yellow
0000000
000000
5"
5

1/2

"
2"
4,000

5/16

"
Powder-Coated Steel
Yellow
0000000
000000
6"
6

1/2

"
2

1/2

"
4,000

5/16

"
Powder-Coated Steel
Yellow
0000000
000000
4"
4

1/2

"
2"
4,000

5/16

"
Powder-Coated Steel
Yellow
0000000
000000
5"
5

1/2

"
2"
4,000

5/16

"
Powder-Coated Steel
Yellow
0000000
000000
6"
6

1/2

"
2

1/2

"
4,000

5/16

"
Powder-Coated Steel
Yellow
0000000
000000
4"
4

1/2

"
2"
4,000

5/16

"
Powder-Coated Steel
Yellow
0000000
000000
5"
5

1/2

"
2"
4,000

5/16

"
Powder-Coated Steel
Yellow
0000000
000000
6"
6

1/2

"
2

1/2

"
4,000

5/16

"
Powder-Coated Steel
Yellow
0000000
000000