Ceiling Tile Framing Covers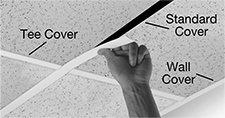 Covers Shown In Use

Wall
Cover,
Top and Bottom Shown

Standard
Cover,
Top and Bottom Shown

Tee Cover,
Top and Bottom Shown
Instead of painting or replacing ceiling tile frames when they're rusted and discolored, put these flexible PVC covers onto them for a clean appearance. They're sized to fit most framing systems. If you're using them with ceiling tiles with recessed edges, make sure the width of the covers will fit the recess.
Rated ASTM E84 Class A, their ability to limit the spread of flames and generation of smoke conforms to the highest classification. They also meet UL 94 V-0, which means they'll self-extinguish within 10 seconds and won't spread fire by dripping.
To cover your framing's perimeter, use wall covers. They slide onto framing where the ceiling and wall meet.
To cover your framing's interior grid, you may need both standard and tee covers. Standard covers have a notch in the middle that covers the seams where two tee covers meet. They're compatible with both 2' × 2' and 2' × 4' ceiling tiles. When used with 2' × 4' tiles, install them on the 2' side. Tee covers run perpendicular to standard covers to create a tee.
For a proper fit, choose covers for 1" wd. framing if your current 15/16" wd. framing already has a thick coating of paint.
For technical drawings and 3-D models, click on a part number.
For


Length,




ft.

For
Width
Length
Width
Thickness
Material
Color
Specifications
Met

Pkg.




Qty.

Pkg.

Snap On

Wall

4

15/16

", 1"
48"
1"

1/8

"
PVC Plastic
White
ASTM E84 Class A, UL 94 V-0
25
000000000
000000

Standard

4

15/16

"
48"
1"

1/8

"
PVC Plastic
White
ASTM E84 Class A, UL 94 V-0
25
000000000
00000
4
1"
48"
1

1/8

"

1/8

"
PVC Plastic
White
ASTM E84 Class A, UL 94 V-0
25
000000000
00000

Tee

2

15/16

"
23"
1"

1/8

"
PVC Plastic
White
ASTM E84 Class A, UL 94 V-0
25
000000000
00000
2
1"
23"
1

1/8

"

1/8

"
PVC Plastic
White
ASTM E84 Class A, UL 94 V-0
25
000000000
00000
4

15/16

"
47"
1"

1/8

"
PVC Plastic
White
ASTM E84 Class A, UL 94 V-0
25
000000000
00000
4
1"
47"
1

1/8

"

1/8

"
PVC Plastic
White
ASTM E84 Class A, UL 94 V-0
25
000000000
00000