Strut Channel Nuts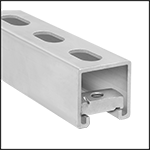 Serrated grooves securely grip the lip of the channel.
Zinc-plated steel nuts are corrosion resistant in wet environments.
Aluminum nuts are about half the weight of steel and resist corrosion in wet environments.
316 stainless steel nuts have excellent resistance to chemicals and salt water.
For technical drawings and 3-D models, click on a part number.
Thread
Size

For Strut Channel

Ht.

For Strut
Channel

Wd.

Pkg.




Qty.

Pkg.

Steel

8-32

13/32

"

13/16

"
10
000000
00000
10-24

13/32

"

13/16

"
10
000000
0000
10-32

13/32

"

13/16

"
10
000000
0000

1/4

"-20

13/32

"

13/16

"
10
000000
0000
8-32

13/16

", 1

5/8

", 2

7/16

", 3

1/4

"
1

5/8

"
5
00000000
0000
10-24

13/16

", 1

5/8

", 2

7/16

", 3

1/4

"
1

5/8

"
5
0000000
0000
10-32

13/16

", 1

5/8

", 2

7/16

", 3

1/4

"
1

5/8

"
5
00000000
0000

1/4

"-20

13/16

", 1

5/8

", 2

7/16

", 3

1/4

"
1

5/8

"
5
0000000
0000

5/16

"-18

13/16

", 1

5/8

", 2

7/16

", 3

1/4

"
1

5/8

"
5
0000000
0000

3/8

"-16

13/16

", 1

5/8

", 2

7/16

", 3

1/4

"
1

5/8

"
5
0000000
00000

7/16

"-14

13/16

", 1

5/8

", 2

7/16

", 3

1/4

"
1

5/8

"
5
00000000
0000

1/2

"-13

13/16

"
1

5/8

"
5
0000000
0000

1/2

"-13

1

5/8

", 2

7/16

", 3

1/4

"
1

5/8

"
5
0000000
00000

5/8

"-11

13/16

"
1

5/8

"
5
00000000
0000

5/8

"-11

1

5/8

", 2

7/16

", 3

1/4

"
1

5/8

"
5
0000000
00000

3/4

"-10

13/16

", 1

5/8

", 2

7/16

", 3

1/4

"
1

5/8

"
5
00000000
00000
M6

13/16

", 1

5/8

", 2

7/16

", 3

1/4

"
1

5/8

"
5
0000000
0000
M8

13/16

", 1

5/8

", 2

7/16

", 3

1/4

"
1

5/8

"
5
0000000
0000
M10

13/16

", 1

5/8

", 2

7/16

", 3

1/4

"
1

5/8

"
5
0000000
0000
M12

13/16

", 1

5/8

", 2

7/16

", 3

1/4

"
1

5/8

"
5
0000000
0000
M12

13/16

"
1

5/8

"
5
00000000
0000

Aluminum

1/4

"-20

13/16

", 1

5/8

", 2

7/16

", 3

1/4

"
1

5/8

"
1
00000000
0000

5/16

"-18

13/16

", 1

5/8

", 2

7/16

", 3

1/4

"
1

5/8

"
1
00000000
0000

3/8

"-16

13/16

", 1

5/8

", 2

7/16

", 3

1/4

"
1

5/8

"
1
00000000
0000

1/2

"-13

13/16

", 1

5/8

", 2

7/16

", 3

1/4

"
1

5/8

"
1
00000000
0000

316 Stainless Steel

10-24

1

5/8

", 2

7/16

", 3

1/4

"
1

5/8

"
1
00000000
0000

1/4

"-20

13/16

", 1

5/8

", 2

7/16

", 3

1/4

"
1

5/8

"
1
0000000
00000

5/16

"-18

13/16

", 1

5/8

", 2

7/16

", 3

1/4

"
1

5/8

"
1
0000000
00000

3/8

"-16

13/16

", 1

5/8

", 2

7/16

", 3

1/4

"
1

5/8

"
1
00000000
0000

1/2

"-13

13/16

", 1

5/8

", 2

7/16

", 3

1/4

"
1

5/8

"
1
0000000
00000

5/8

"-11

1

5/8

", 2

7/16

", 3

1/4

"
1

5/8

"
1
0000000
00000

3/4

"-10

1

5/8

", 2

7/16

", 3

1/4

"
1

5/8

"
1
00000000
00000
M6

13/16

", 1

5/8

", 2

7/16

", 3

1/4

"
1

5/8

"
1
00000000
0000
M8

13/16

", 1

5/8

", 2

7/16

", 3

1/4

"
1

5/8

"
1
00000000
0000
M10

13/16

", 1

5/8

", 2

7/16

", 3

1/4

"
1

5/8

"
1
00000000
0000
M12

13/16

", 1

5/8

", 2

7/16

", 3

1/4

"
1

5/8

"
1
00000000
0000