Strut Channel Trolleys


1

2

3

4

5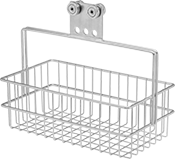 6
Style 1 and 2 trolleys have a horizontal plate with holes for hanging threaded rod and eyebolts.
Style 3 trolley has a horizontal plate with an eyebolt and two slotted holes for hanging threaded rod.
Style 4 and 5 trolleys have a vertical plate with holes for attaching hooks and shackles.
Style 6 trolleys have a built-in basket.
Zinc-plated steel trolleys are corrosion resistant in wet environments.
304 stainless steel trolleys are more corrosion resistant than zinc-plated steel. They also have good chemical resistance.
For technical drawings and 3-D models, click on a part number.
Style

Cap.,




lbs.

For Strut
Channel


Ht.

For Strut
Channel
Type
For
Stack
Orientation

Lg.

Wd.

Ht.

Clearance

Ctr.-to-Ctr.

Dia.

Eye


Dia.

Wheel


Dia.

Lg.

Wd.

Ht.

Each
1
50
1

5/8

", 2

7/16

", 3

1/4

"
Standard, High Profile, Stacked
Back-to-Back
1

1/4

"

7/16

"
1

11/16

"

3/16

"
__

1/4

"
__
1

3/16

"
__
__
__
0000000
000000
2
100
1

5/8

", 2

7/16

", 3

1/4

"
Standard, High Profile, Stacked
Back-to-Back
3

1/8

"

7/16

"
1

3/4

"

1/4

"
1"

1/4

"
__
1

3/16

"
__
__
__
0000000
00000
3
100
1

5/8

", 2

7/16

", 3

1/4

"
Standard, High Profile, Stacked
Back-to-Back
3

1/8

"

7/16

"
4

3/16

"

1/4

"
1"
__

3/4

"
1

3/16

"
__
__
__
0000000
00000
4
150
1

5/8

", 2

7/16

", 3

1/4

"
Standard, High Profile, Stacked
Back-to-Back
1

1/4

"

1/4

"
3

7/16

"
1

15/16

"
__

9/16

"
__
1

3/16

"
__
__
__
0000000
00000
5
300
1

5/8

", 2

7/16

", 3

1/4

"
Standard, High Profile, Stacked
Back-to-Back
3

1/2

"

1/4

"
3

5/16

"
1

15/16

"

15/16

"

9/16

"
__
1

3/16

"
__
__
__
0000000
00000
6
40
1

5/8

", 2

7/16

", 3

1/4

"
Standard, High Profile, Stacked
Back-to-Back
14

5/8

"
8"
12

1/8

"
1

15/16

"

15/16

"

9/16

"
__
1

3/16

"
14

1/8

"
8"
5"
00000000
000000
6
40
1

5/8

", 2

7/16

", 3

1/4

"
Standard, High Profile, Stacked
Back-to-Back
16

1/2

"
14"
15

1/8

"
1

15/16

"

15/16

"

9/16

"
__
1

3/16

"
16"
14"
8"
00000000
000000

304 Stainless Steel

1
50
1

5/8

", 2

7/16

", 3

1/4

"
Standard, High Profile, Stacked
Back-to-Back
1

1/4

"

7/16

"
1

11/16

"

3/16

"
__

1/4

"
__
1

3/16

"
__
__
__
00000000
000000
2
100
1

5/8

", 2

7/16

", 3

1/4

"
Standard, High Profile, Stacked
Back-to-Back
3

1/8

"

7/16

"
1

3/4

"

1/4

"
1"

1/4

"
__
1

3/16

"
__
__
__
00000000
000000
4
150
1

5/8

", 2

7/16

", 3

1/4

"
Standard, High Profile, Stacked
Back-to-Back
1

1/4

"

1/4

"
3

5/16

"
1

15/16

"
__

9/16

"
__
1

1/8

"
__
__
__
0000000
000000
5
300
1

5/8

", 2

7/16

", 3

1/4

"
Standard, High Profile, Stacked
Back-to-Back
3

1/2

"

1/4

"
3

1/2

"
2

1/8

"

15/16

"

9/16

"
__
1

1/8

"
__
__
__
0000000
000000