Selecting Clamps Using
Pipe,

Conduit,

or Tubing Trade Size
Strut-Mount

Vibration-Damping

Routing Clamps
Slide multiple clamps into existing strut channel to organize lines of pipe, tubing, and conduit without the need for drilling, welding, or using adhesive. Clamps have a plastic or rubber cushion or body to reduce vibration.
Zinc-plated steel and stainless steel clamps with TPE cushion resist most oils, chemicals, and cleaning compounds. With a metal body, they provide a more secure hold than TPE clamps. Slide into strut channel and fasten the nut to secure. Stainless steel clamps are more corrosion resistant than zinc-plated steel clamps.
Polypropylene clamps are good for hydraulic applications. To install, slide into strut channel and fasten the mounting bolts into the included strut channel nuts. Clamps with 316 stainless steel top plates are more corrosion resistant than clamps with steel top plates.
Glass-filled nylon clamps with SBR cushion are good for refrigeration, HVAC, and hydraulic applications. Their plastic construction prevents corrosion caused by metal-to-metal contact. Slide into strut channel and fasten the nut to secure.
Clamps with a thumb grip have a tab on the bottom of the cushion for easy installation and removal.
Stacking clamps allow you to route multiple lines on top of each other. They include fasteners and a plate for attaching to regular clamps or other stacking clamps. Stacking clamps cannot be used alone.
For technical drawings and 3-D models, click on a part number.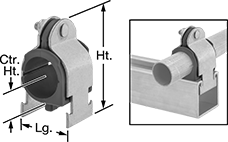 Steel and Stainless Steel Clamp with TPE Cushion and Thumb Grip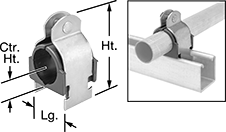 Steel and Stainless Steel Clamp with TPE Cushion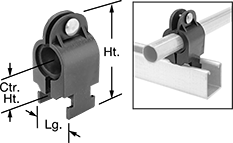 Glass-Filled
Nylon Clamp with SBR Cushion
Inch

Metric,


mm
For
Pipe
Size

Lg.

Wd.

Ht.

Center


Ht.

Thick.

For Strut
Channel


Wd.

Mounting
Fasteners
Included

Temp.




Range,




°F

Features
Each

Zinc-Plated

Steel with TPE Rubber Cushion

1/4

"
6
__

5/8

"
1

1/4

"
1

3/4

"

1/4

"

1/16

"
1

5/8

"
Yes
-50° to 275°
Thumb Grip
00000000
00000

3/8

"
10
__

13/16

"
1

1/4

"
1

15/16

"

5/16

"

1/16

"
1

5/8

"
Yes
-50° to 275°
Thumb Grip
00000000
0000

1/2

"
13

1/8

15/16

"
1

1/4

"
2

1/16

"

3/8

"

1/16

"
1

5/8

"
Yes
-50° to 275°
Thumb Grip
00000000
0000

9/16

"
14

1/4

1"
1

1/4

"
2"

7/16

"

1/16

"
1

5/8

"
Yes
-50° to 270°
__
00000000
0000

5/8

"
16

1/4

1

1/16

"
1

1/4

"
2

1/4

"

7/16

"

1/16

"
1

5/8

"
Yes
-50° to 275°
Thumb Grip
00000000
0000

11/16

"
17

3/8

1

1/8

"
1

1/4

"
2

3/16

"

1/2

"

1/16

"
1

5/8

"
Yes
-50° to 270°
__
00000000
0000

3/4

"
19

3/8

1

3/16

"
1

1/4

"
2

3/8

"

1/2

"

5/64

"
1

5/8

"
Yes
-50° to 275°
Thumb Grip
00000000
0000

13/16

"
21

1/2

1

5/16

"
1

1/4

"
2

1/2

"

9/16

"

5/64

"
1

5/8

"
Yes
-50° to 270°
__
00000000
0000

7/8

"
22

1/2

1

5/16

"
1

1/4

"
2

1/2

"

9/16

"

3/4

"
1

5/8

"
Yes
-50° to 275°
Thumb Grip
00000000
0000
1"
25
__
1

7/16

"
1

1/4

"
2

5/8

"

5/8

"

3/4

"
1

5/8

"
Yes
-50° to 275°
Thumb Grip
00000000
0000
1

1/16

"
27

3/4

1

9/16

"
1

1/4

"
2

3/4

"

11/16

"

3/4

"
1

5/8

"
Yes
-50° to 275°
Thumb Grip
00000000
0000
1

1/8

"
29

3/4

1

9/16

"
1

1/4

"
2

3/4

"

11/16

"

3/4

"
1

5/8

"
Yes
-50° to 275°
Thumb Grip
00000000
0000
1

1/4

"
32
__
1

11/16

"
1

1/4

"
2

7/8

"

3/4

"

5/64

"
1

5/8

"
Yes
-50° to 275°
Thumb Grip
00000000
0000
1

5/16

"
33
1

1

3/4

"
1

1/4

"
3

1/16

"

13/16

"

3/4

"
1

5/8

"
Yes
-50° to 275°
Thumb Grip
00000000
0000
1

3/8

"
35
1

1

13/16

"
1

1/4

"
3

1/16

"

13/16

"

3/4

"
1

5/8

"
Yes
-50° to 275°
Thumb Grip
00000000
0000
1

1/2

"
38
__
1

15/16

"
1

1/4

"
3

5/16

"

7/8

"

1/8

"
1

5/8

"
Yes
-50° to 275°
Thumb Grip
00000000
0000
1

5/8

"
41
__
2

1/16

"
1

1/4

"
3

7/16

"

15/16

"

1/8

"
1

5/8

"
Yes
-50° to 275°
Thumb Grip
00000000
0000
1

11/16

"
43
1

1/4

2

3/16

"
1

1/4

"
3

7/16

"
1"

7/64

"
1

5/8

"
Yes
-50° to 270°
__
00000000
0000
1

3/4

"
44
1

1/4

2

3/16

"
1

1/4

"
3

9/16

"
1"

1/8

"
1

5/8

"
Yes
-50° to 275°
Thumb Grip
00000000
0000
1

7/8

"
48
1

1/2

2

5/16

"
1

1/4

"
3

3/4

"
1

1/16

"

1/8

"
1

5/8

"
Yes
-50° to 275°
Thumb Grip
00000000
0000
2"
51
1

1/2

2

7/16

"
1

1/4

"
3

13/16

"
1

1/8

"

1/8

"
1

5/8

"
Yes
-50° to 275°
Thumb Grip
00000000
0000
2

1/8

"
54
__
2

9/16

"
1

1/4

"
4

1/8

"
1

1/4

"
__
1

5/8

"
Yes
-50° to 275°
Thumb Grip
00000000
0000
2

1/4

"
57
__
2

13/16

"
1

1/4

"
4

1/8

"
1

7/16

"

1/8

"
1

5/8

"
Yes
-50° to 275°
Thumb Grip
00000000
00000
2

3/8

"
60
2

2

13/16

"
1

1/4

"
5

1/16

"
1

7/16

"

7/64

"
1

5/8

"
Yes
-50° to 275°
Thumb Grip
00000000
00000
2

1/2

"
64
2

2

15/16

"
1

1/4

"
4

1/2

"
1

7/16

"

1/8

"
1

5/8

"
Yes
-50° to 275°
Thumb Grip
00000000
00000
2

5/8

"
67
__
3

1/16

"
1

1/4

"
4

5/8

"
1

1/2

"

1/8

"
1

5/8

"
Yes
-50° to 275°
Thumb Grip
00000000
00000
2

7/8

"
73
2

1/2

3

5/16

"
1

1/4

"
4

7/8

"
1

11/16

"

1/8

"
1

5/8

"
Yes
-50° to 275°
Thumb Grip
00000000
00000
3"
76
2

1/2

3

9/16

"
1

1/4

"
5"
1

3/4

"

1/8

"
1

5/8

"
Yes
-50° to 275°
Thumb Grip
00000000
00000
3

1/8

"
79
__
3

9/16

"
1

1/4

"
5

1/8

"
1

3/4

"

1/8

"
1

5/8

"
Yes
-50° to 275°
Thumb Grip
00000000
00000
3

1/2

"
89
3

3

15/16

"
1

1/4

"
5

9/16

"
2"

1/8

"
1

5/8

"
Yes
-50° to 275°
Thumb Grip
00000000
00000
3

5/8

"
92
__
4

3/16

"
1

1/4

"
5

7/8

"
2"

5/64

"
1

5/8

"
Yes
-50° to 270°
__
000000000
00000
4"
102
3

1/2

4

7/16

"
1

1/4

"
6

3/16

"
2

1/4

"

1/8

"
1

5/8

"
Yes
-50° to 275°
Thumb Grip
00000000
00000
4

1/8

"
105
3

1/2

4

9/16

"
1

1/4

"
6

5/16

"
2

5/16

"

1/8

"
1

5/8

"
Yes
-50° to 275°
Thumb Grip
00000000
00000
4

1/2

"
114
4

4

15/16

"
1

1/4

"
6

3/4

"
2

1/2

"

1/8

"
1

5/8

"
Yes
-50° to 275°
Thumb Grip
000000000
00000
5

9/16

"
141
5

6

1/2

"
1

1/4

"
7

11/16

"
3

1/16

"

1/8

"
1

5/8

"
Yes
-50° to 270°
__
00000000
00000
6

5/8

"
168
6

7

1/2

"
1

1/4

"
8

11/16

"
3

9/16

"

1/8

"
1

5/8

"
Yes
-50° to 270°
__
00000000
00000

304 Stainless Steel with TPE Rubber Cushion

1/4

"
6
__

5/8

"
1

1/4

"
1

3/4

"

1/4

"

1/16

"
1

5/8

"
Yes
-50° to 275°
Thumb Grip
00000000
0000

3/8

"
10
__

13/16

"
1

1/4

"
1

7/8

"

5/16

"

1/16

"
1

5/8

"
Yes
-50° to 275°
Thumb Grip
00000000
0000

1/2

"
13

1/8

15/16

"
1

1/4

"
2

1/16

"

3/8

"

1/16

"
1

5/8

"
Yes
-50° to 275°
Thumb Grip
00000000
0000

9/16

"
14

1/4

1"
1

1/4

"
2"

7/16

"

1/16

"
1

5/8

"
Yes
-50° to 270°
__
00000000
0000

5/8

"
16

1/4

1

1/16

"
1

1/4

"
2

1/4

"

7/16

"

1/16

"
1

5/8

"
Yes
-50° to 275°
Thumb Grip
00000000
0000

11/16

"
17

3/8

1

1/8

"
1

1/4

"
2

3/16

"

1/2

"

1/16

"
1

5/8

"
Yes
-50° to 270°
__
00000000
0000

3/4

"
19

3/8

1

3/16

"
1

1/4

"
2

3/8

"

1/2

"

3/4

"
1

5/8

"
Yes
-50° to 275°
Thumb Grip
00000000
0000

13/16

"
21

1/2

1

5/16

"
1

1/4

"
2

1/2

"

9/16

"

5/64

"
1

5/8

"
Yes
-50° to 270°
__
00000000
00000
1"
25
__
1

7/16

"
1

1/4

"
2

5/8

"

5/8

"

3/4

"
1

5/8

"
Yes
-50° to 275°
Thumb Grip
00000000
00000
1

1/16

"
27

3/4

1

9/16

"
1

1/4

"
2

3/4

"

11/16

"

3/4

"
1

5/8

"
Yes
-50° to 275°
Thumb Grip
00000000
00000
1

1/8

"
29

3/4

1

9/16

"
1

1/4

"
2

3/4

"

11/16

"

3/4

"
1

5/8

"
Yes
-50° to 275°
Thumb Grip
00000000
00000
1

1/4

"
32
__
1

11/16

"
1

1/4

"
2

7/8

"

3/4

"

3/4

"
1

5/8

"
Yes
-50° to 275°
Thumb Grip
00000000
00000
1

5/16

"
33
1

1

3/4

"
1

1/4

"
3

1/16

"

13/16

"

3/4

"
1

5/8

"
Yes
-50° to 275°
Thumb Grip
00000000
00000
1

3/8

"
35
1

1

13/16

"
1

1/4

"
3

1/16

"

13/16

"

3/4

"
1

5/8

"
Yes
-50° to 275°
Thumb Grip
00000000
00000
1

1/2

"
38
__
1

15/16

"
1

1/4

"
3

5/16

"

7/8

"

1/8

"
1

5/8

"
Yes
-50° to 275°
Thumb Grip
00000000
00000
1

5/8

"
41
__
2

1/16

"
1

1/4

"
3

7/16

"

15/16

"

1/8

"
1

5/8

"
Yes
-50° to 275°
Thumb Grip
00000000
00000
1

11/16

"
43
1

1/4

2

3/16

"
1

1/4

"
3

7/16

"
1"

7/64

"
1

5/8

"
Yes
-50° to 270°
__
00000000
00000
1

3/4

"
44
1

1/4

2

3/16

"
1

1/4

"
3

9/16

"
1"

1/8

"
1

5/8

"
Yes
-50° to 275°
Thumb Grip
00000000
00000
1

7/8

"
48
1

1/2

2

5/16

"
1

1/4

"
3

3/4

"
1

1/8

"

1/8

"
1

5/8

"
Yes
-50° to 275°
Thumb Grip
00000000
00000
2"
51
1

1/2

2

7/16

"
1

1/4

"
3

13/16

"
1

1/8

"

1/8

"
1

5/8

"
Yes
-50° to 275°
Thumb Grip
00000000
00000
2

1/8

"
54
__
2

9/16

"
1

1/4

"
4

1/8

"
1

1/4

"

1/8

"
1

5/8

"
Yes
-50° to 275°
Thumb Grip
00000000
00000
2

1/4

"
57
__
2

13/16

"
1

1/4

"
4

1/8

"
1

7/16

"

1/8

"
1

5/8

"
Yes
-50° to 275°
Thumb Grip
00000000
00000
2

3/8

"
60
2

3

1/4

"
1

1/4

"
4

3/8

"
1

7/16

"

1/8

"
1

5/8

"
Yes
-50° to 275°
Thumb Grip
00000000
00000
2

1/2

"
64
2

2

15/16

"
1

1/4

"
4

1/2

"
1

7/16

"

1/8

"
1

5/8

"
Yes
-50° to 275°
Thumb Grip
00000000
00000
2

5/8

"
67
__
3

1/16

"
1

1/4

"
4

5/8

"
1

1/2

"

1/8

"
1

5/8

"
Yes
-50° to 275°
Thumb Grip
00000000
00000
2

7/8

"
73
2

1/2

3

5/16

"
1

1/4

"
4

7/8

"
1

11/16

"

7/64

"
1

5/8

"
Yes
-50° to 275°
Thumb Grip
00000000
00000
3"
76
2

1/2

3

9/16

"
1

1/4

"
5"
1

3/4

"

1/8

"
1

5/8

"
Yes
-50° to 275°
Thumb Grip
00000000
00000
3

1/8

"
79
__
3

9/16

"
1

1/4

"
5

1/8

"
1

3/4

"

1/8

"
1

5/8

"
Yes
-50° to 275°
Thumb Grip
00000000
00000
3

1/2

"
89
3

3

15/16

"
1

1/4

"
5

9/16

"
2"

1/8

"
1

5/8

"
Yes
-50° to 275°
Thumb Grip
00000000
00000
4"
102
3

1/2

4

7/16

"
1

1/4

"
6

3/16

"
2

1/4

"

1/8

"
1

5/8

"
Yes
-50° to 275°
Thumb Grip
00000000
00000
4

1/8

"
105
3

1/2

4

9/16

"
1

1/4

"
6

5/16

"
2

5/16

"

1/8

"
1

5/8

"
Yes
-50° to 275°
Thumb Grip
00000000
00000
4

1/2

"
114
4

4

15/16

"
1

1/4

"
6

3/4

"
2

1/2

"

1/8

"
1

5/8

"
Yes
-50° to 275°
Thumb Grip
000000000
00000
5

9/16

"
141
5

6

1/2

"
1

1/4

"
7

11/16

"
3

1/16

"

1/8

"
1

5/8

"
Yes
-50° to 270°
__
00000000
00000
6

5/8

"
168
6

7

1/2

"
1

1/4

"
8

11/16

"
3

9/16

"

1/8

"
1

5/8

"
Yes
-50° to 270°
__
00000000
000000

316 Stainless Steel with TPE Rubber Cushion

1/4

"
6
__

5/8

"
1

1/4

"
1

3/4

"

1/4

"

5/64

"
1

5/8

"
Yes
-50° to 270°
__
00000000
0000

3/8

"
10
__

3/4

"
1

1/4

"
1

7/8

"

5/16

"

5/64

"
1

5/8

"
Yes
-50° to 270°
__
00000000
0000

1/2

"
13

1/8

7/8

"
1

1/4

"
2"

3/8

"

5/64

"
1

5/8

"
Yes
-50° to 270°
__
00000000
0000

9/16

"
14

1/4

15/16

"
1

1/4

"
2"

3/8

"

5/64

"
1

5/8

"
Yes
-50° to 270°
__
000000000
0000

5/8

"
16

1/4

1"
1

1/4

"
2

1/8

"

7/16

"

5/64

"
1

5/8

"
Yes
-50° to 270°
__
00000000
0000

11/16

"
17

3/8

1

1/16

"
1

1/4

"
2

3/16

"

7/16

"

5/64

"
1

5/8

"
Yes
-50° to 270°
__
000000000
0000

3/4

"
19

3/8

1

5/16

"
1

1/4

"
2

7/16

"

9/16

"

5/64

"
1

5/8

"
Yes
-50° to 270°
__
00000000
0000

13/16

"
21

1/2

1

7/16

"
1

1/4

"
2

1/2

"

5/8

"

5/64

"
1

5/8

"
Yes
-50° to 270°
__
000000000
00000

7/8

"
22

1/2

1

7/16

"
1

1/4

"
2

1/2

"

9/16

"

5/64

"
1

5/8

"
Yes
-50° to 270°
__
00000000
00000
1"
25
__
1

11/16

"
1

1/4

"
2

11/16

"

11/16

"

7/64

"
1

5/8

"
Yes
-50° to 270°
__
00000000
00000
1

1/16

"
27

3/4

1

13/16

"
1

1/4

"
2

13/16

"

3/4

"

7/64

"
1

5/8

"
Yes
-50° to 270°
__
000000000
00000
1

1/8

"
29

3/4

1

13/16

"
1

1/4

"
2

13/16

"

3/4

"

7/64

"
1

5/8

"
Yes
-50° to 270°
__
00000000
00000
1

1/4

"
32
__
1

15/16

"
1

1/4

"
2

15/16

"

13/16

"

7/64

"
1

5/8

"
Yes
-50° to 270°
__
000000000
00000
1

5/16

"
33
1

2

1/4

"
1

1/4

"
3

3/8

"

7/8

"

1/8

"
1

5/8

"
Yes
-50° to 270°
__
000000000
00000
1

3/8

"
35
1

2

1/4

"
1

1/4

"
3

1/4

"

13/16

"

1/8

"
1

5/8

"
Yes
-50° to 270°
__
000000000
00000
1

1/2

"
38
__
2

1/4

"
1

1/4

"
3

5/16

"

15/16

"

1/8

"
1

5/8

"
Yes
-50° to 270°
__
000000000
00000
1

5/8

"
41
__
2

1/2

"
1

1/4

"
3

5/16

"
1"

1/8

"
1

5/8

"
Yes
-50° to 270°
__
000000000
00000
1

11/16

"
43
1

1/4

2

1/2

"
1

1/4

"
3

11/16

"
1

1/16

"

1/8

"
1

5/8

"
Yes
-50° to 270°
__
000000000
00000
1

3/4

"
44
1

1/4

2

1/2

"
1

1/4

"
3

11/16

"
1

1/16

"

1/8

"
1

5/8

"
Yes
-50° to 270°
__
000000000
00000
1

7/8

"
48
1

1/2

2

1/2

"
1

1/4

"
3

7/8

"
1

3/16

"

1/8

"
1

5/8

"
Yes
-50° to 270°
__
000000000
00000
2"
51
1

1/2

2

3/4

"
1

1/4

"
3

7/8

"
1

3/16

"

1/8

"
1

5/8

"
Yes
-50° to 270°
__
000000000
00000
2

1/8

"
54
__
3"
1

1/4

"
4

1/4

"
1

5/16

"

1/8

"
1

5/8

"
Yes
-50° to 270°
__
000000000
00000
2

1/4

"
57
__
3

1/4

"
1

1/4

"
4

7/16

"
1

7/16

"

1/8

"
1

5/8

"
Yes
-50° to 270°
__
000000000
00000
2

3/8

"
60
2

3

1/4

"
1

1/4

"
4

7/16

"
1

7/16

"

1/8

"
1

5/8

"
Yes
-50° to 270°
__
000000000
00000
2

1/2

"
64
2

3

1/2

"
1

1/4

"
4

5/8

"
1

9/16

"

1/8

"
1

5/8

"
Yes
-50° to 270°
__
000000000
00000
2

5/8

"
67
__
3

1/2

"
1

1/4

"
4

5/8

"
1

9/16

"

1/8

"
1

5/8

"
Yes
-50° to 270°
__
000000000
00000
2

7/8

"
73
2

1/2

3

3/4

"
1

1/4

"
4

15/16

"
1

11/16

"

1/8

"
1

5/8

"
Yes
-50° to 270°
__
000000000
00000
3"
76
2

1/2

4"
1

1/4

"
5

1/8

"
1

13/16

"

1/8

"
1

5/8

"
Yes
-50° to 270°
__
000000000
00000
3

1/8

"
79
__
4"
1

1/4

"
5

1/8

"
1

13/16

"

1/8

"
1

5/8

"
Yes
-50° to 270°
__
000000000
00000
3

1/2

"
89
3

4

3/8

"
1

1/4

"
5

9/16

"
2"

1/8

"
1

5/8

"
Yes
-50° to 270°
__
000000000
00000
3

5/8

"
92
3

4

1/2

"
1

1/4

"
5

5/8

"
2

1/16

"

1/8

"
1

5/8

"
Yes
-50° to 270°
__
000000000
00000
4"
102
3

1/2

5"
1

1/4

"
6

3/16

"
2

5/16

"

1/8

"
1

5/8

"
Yes
-50° to 270°
__
000000000
00000
4

1/8

"
105
3

1/2

5

1/16

"
1

1/4

"
6

1/4

"
2

3/8

"

1/8

"
1

5/8

"
Yes
-50° to 270°
__
000000000
00000
4

1/2

"
114
4

5

1/2

"
1

1/4

"
6

11/16

"
2

9/16

"

1/8

"
1

5/8

"
Yes
-50° to 270°
__
000000000
00000
5

9/16

"
141
5

6

1/2

"
1

1/4

"
7

11/16

"
3

1/16

"

1/8

"
1

5/8

"
Yes
-50° to 270°
__
000000000
00000
6

5/8

"
168
6

7

1/2

"
1

1/4

"
8

11/16

"
3

9/16

"

1/8

"
1

5/8

"
Yes
-50° to 270°
__
000000000
000000

Nylon Plastic with SBR Rubber Cushion

1/4

"
6
__
1

1/2

"
1

5/8

"
3

3/8

"
1

1/4

"

1/8

"
1

5/8

"
Yes
-50° to 250°
__
000000
0000

5/16

"
8
__
1

1/2

"
1

5/8

"
3

3/8

"
1

1/4

"

1/8

"
1

5/8

"
Yes
-50° to 250°
__
000000
0000

3/8

"
10
__
1

1/2

"
1

5/8

"
3

3/8

"
1

1/4

"

1/8

"
1

5/8

"
Yes
-50° to 250°
__
000000
0000

1/2

"
13

1/8

1

1/2

"
1

5/8

"
3

3/8

"
1

1/4

"

1/8

"
1

5/8

"
Yes
-50° to 250°
__
000000
0000

5/8

"
16

1/4

1

1/2

"
1

5/8

"
3

3/8

"
1

1/4

"

1/8

"
1

5/8

"
Yes
-50° to 250°
__
000000
0000

11/16

"
17

3/8

1

1/2

"
1

5/8

"
3

3/8

"
1

1/4

"

1/8

"
1

5/8

"
Yes
-50° to 250°
__
0000000
0000

3/4

"
19

3/8

1

1/2

"
1

5/8

"
3

3/8

"
1

1/4

"

1/8

"
1

5/8

"
Yes
-50° to 250°
__
000000
0000

13/16

"
21

1/2

1

1/2

"
1

5/8

"
3

3/8

"
1

1/4

"

1/8

"
1

5/8

"
Yes
-50° to 250°
__
0000000
0000

7/8

"
22

1/2

1

1/2

"
1

5/8

"
3

3/8

"
1

1/4

"

1/8

"
1

5/8

"
Yes
-50° to 250°
__
000000
0000
1"
25
__
1

1/2

"
1

5/8

"
3

3/8

"
1

1/4

"

1/8

"
1

5/8

"
Yes
-50° to 250°
__
0000000
0000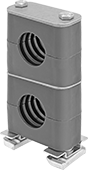 Polypropylene Clamp
Shown with Stacking
Clamp
(Sold Separately)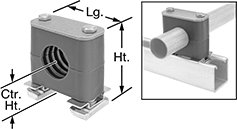 Polypropylene Clamp
Inch

Metric,


mm
For
Pipe
Size

Capacity

Lg.

Wd.

Ht.

Center


Ht.

For Strut
Channel


Wd.

Mounting
Fasteners
Included
For

Max.




Pressure,


psi

Temp.




Range,




°F

Each
Each

Polypropylene Plastic with

Zinc-Plated

Steel Top Plate

1/4

"
6
__
Not Rated
1

7/16

"
1

3/16

"
1

11/16

"

9/16

"
1

5/8

"
Yes
2,000
-20° to 190°
0000000
00000
00000000
00000

3/8

"
10
__
Not Rated
1

7/16

"
1

3/16

"
1

11/16

"

9/16

"
1

5/8

"
Yes
2,000
-20° to 190°
0000000
0000
00000000
0000

1/2

"
13

1/8

Not Rated
1

5/8

"
1

3/16

"
1

15/16

"

5/8

"
1

5/8

"
Yes
2,000
-20° to 190°
0000000
0000
00000000
0000

9/16

"
14

1/4

Not Rated
1

5/8

"
1

3/16

"
1

15/16

"

5/8

"
1

5/8

"
Yes
2,000
-20° to 190°
0000000
0000
00000000
0000

5/8

"
16

1/4

Not Rated
1

5/8

"
1

3/16

"
1

15/16

"

5/8

"
1

5/8

"
Yes
2,000
-20° to 190°
0000000
0000
00000000
0000

11/16

"
17

3/8

Not Rated
1

5/8

"
1

3/16

"
1

15/16

"

5/8

"
1

5/8

"
Yes
2,000
-20° to 190°
0000000
0000
00000000
0000

3/4

"
19

3/8

Not Rated
2"
1

3/16

"
2

1/16

"

11/16

"
1

5/8

"
Yes
2,000
-20° to 190°
0000000
0000
00000000
0000

13/16

"
21

1/2

Not Rated
2"
1

3/16

"
2

1/16

"

11/16

"
1

5/8

"
Yes
2,000
-20° to 190°
0000000
0000
00000000
0000

7/8

"
22

1/2

Not Rated
2"
1

3/16

"
2

1/16

"

11/16

"
1

5/8

"
Yes
2,000
-20° to 190°
0000000
0000
00000000
0000
1"
25
__
Not Rated
2"
1

3/16

"
2

1/16

"

11/16

"
1

5/8

"
Yes
2,000
-20° to 190°
0000000
0000
00000000
0000
1

1/16

"
27

3/4

Not Rated
2

5/16

"
1

3/16

"
2

5/16

"

13/16

"
1

5/8

"
Yes
2,000
-20° to 190°
0000000
0000
00000000
0000
1

1/4

"
32
__
Not Rated
2

13/16

"
1

3/16

"
2

15/16

"
1

1/8

"
1

5/8

"
Yes
2,000
-20° to 190°
0000000
0000
00000000
0000
1

5/16

"
33
1

Not Rated
2

13/16

"
1

3/16

"
2

15/16

"
1

1/8

"
1

5/8

"
Yes
2,000
-20° to 190°
0000000
0000
00000000
0000
1

1/2

"
38
__
Not Rated
2

13/16

"
1

3/16

"
2

15/16

"
1

1/8

"
1

5/8

"
Yes
2,000
-20° to 190°
0000000
0000
00000000
0000
1

11/16

"
43
1

1/4

Not Rated
2

13/16

"
1

3/16

"
2

15/16

"
1

1/8

"
1

5/8

"
Yes
2,000
-20° to 190°
0000000
0000
00000000
0000
1

3/4

"
44
1

1/4

Not Rated
3

3/8

"
1

3/16

"
3

1/4

"
1

5/16

"
1

5/8

"
Yes
2,000
-20° to 190°
0000000
0000
00000000
00000
1

7/8

"
48
1

1/2

Not Rated
3

3/8

"
1

3/16

"
3

1/4

"
1

5/16

"
1

5/8

"
Yes
2,000
-20° to 190°
0000000
0000
00000000
00000
2"
51
1

1/2

Not Rated
3

3/8

"
1

3/16

"
3

1/4

"
1

5/16

"
1

5/8

"
Yes
2,000
-20° to 190°
0000000
0000
00000000
00000
2

1/4

"
57
__
Not Rated
4

3/4

"
1

3/16

"
4

3/8

"
1

13/16

"
1

5/8

"
Yes
2,000
-20° to 190°
0000000
00000
00000000
00000
2

3/8

"
60
2

Not Rated
4

3/4

"
1

3/16

"
4

3/8

"
1

13/16

"
1

5/8

"
Yes
2,000
-20° to 190°
0000000
00000
00000000
00000
2

1/2

"
64
2

Not Rated
4

3/4

"
1

3/16

"
4

3/8

"
1

13/16

"
1

5/8

"
Yes
2,000
-20° to 190°
0000000
00000
00000000
00000
2

7/8

"
73
2

1/2

Not Rated
4

3/4

"
1

3/16

"
4

3/8

"
1

13/16

"
1

5/8

"
Yes
2,000
-20° to 190°
0000000
00000
00000000
00000
3"
76
2

1/2

Not Rated
4

3/4

"
1

3/16

"
4

3/8

"
1

13/16

"
1

5/8

"
Yes
2,000
-20° to 190°
0000000
00000
00000000
00000
3

1/2

"
89
3

Not Rated
5

13/16

"
1

3/16

"
5

3/8

"
2

5/16

"
1

5/8

"
Yes
2,000
-20° to 190°
0000000
00000
00000000
00000
4"
102
3

1/2

Not Rated
5

13/16

"
1

3/16

"
5

3/8

"
2

5/16

"
1

5/8

"
Yes
2,000
-20° to 190°
0000000
00000
00000000
00000

Polypropylene Plastic with 316 Stainless Steel Top Plate

1/4

"
6
__
Not Rated
1

7/16

"
1

3/16

"
1

11/16

"

9/16

"
1

5/8

"
Yes
2,000
-20° to 190°
0000000
00000
000000
00

3/8

"
10
__
Not Rated
1

7/16

"
1

3/16

"
1

11/16

"

9/16

"
1

5/8

"
Yes
2,000
-20° to 190°
0000000
00000
000000
00

1/2

"
13

1/8

Not Rated
1

5/8

"
1

3/16

"
1

15/16

"

5/8

"
1

5/8

"
Yes
2,000
-20° to 190°
0000000
00000
000000
00

9/16

"
14

1/4

Not Rated
1

5/8

"
1

3/16

"
1

15/16

"

5/8

"
1

5/8

"
Yes
2,000
-20° to 190°
0000000
00000
000000
00

5/8

"
16

1/4

Not Rated
1

5/8

"
1

3/16

"
1

15/16

"

5/8

"
1

5/8

"
Yes
2,000
-20° to 190°
0000000
00000
000000
00

11/16

"
17

3/8

Not Rated
1

5/8

"
1

3/16

"
1

15/16

"

5/8

"
1

5/8

"
Yes
2,000
-20° to 190°
0000000
00000
000000
00

3/4

"
19

3/8

Not Rated
2"
1

3/16

"
2

1/16

"

11/16

"
1

5/8

"
Yes
2,000
-20° to 190°
0000000
00000
000000
00

13/16

"
21

1/2

Not Rated
2"
1

3/16

"
2

1/16

"

11/16

"
1

5/8

"
Yes
2,000
-20° to 190°
0000000
00000
000000
00

7/8

"
22

1/2

Not Rated
2"
1

3/16

"
2

1/16

"

11/16

"
1

5/8

"
Yes
2,000
-20° to 190°
0000000
00000
000000
00
1"
25
__
Not Rated
2"
1

3/16

"
2

1/16

"

11/16

"
1

5/8

"
Yes
2,000
-20° to 190°
0000000
00000
000000
00
1

1/16

"
27

3/4

Not Rated
2

5/16

"
1

3/16

"
2

5/16

"

13/16

"
1

5/8

"
Yes
2,000
-20° to 190°
0000000
00000
000000
00
1

1/4

"
32
__
Not Rated
2

13/16

"
1

3/16

"
2

15/16

"
1

1/8

"
1

5/8

"
Yes
2,000
-20° to 190°
0000000
00000
000000
00
1

5/16

"
33
1

Not Rated
2

13/16

"
1

3/16

"
2

15/16

"
1

1/8

"
1

5/8

"
Yes
2,000
-20° to 190°
0000000
00000
000000
00
1

1/2

"
38
__
Not Rated
2

13/16

"
1

3/16

"
2

15/16

"
1

1/8

"
1

5/8

"
Yes
2,000
-20° to 190°
0000000
00000
000000
00
1

11/16

"
43
1

1/4

Not Rated
2

13/16

"
1

3/16

"
2

15/16

"
1

1/8

"
1

5/8

"
Yes
2,000
-20° to 190°
0000000
00000
000000
00
1

3/4

"
44
1

1/4

Not Rated
3

3/8

"
1

3/16

"
3

1/4

"
1

5/16

"
1

5/8

"
Yes
2,000
-20° to 190°
0000000
00000
000000
00
1

7/8

"
48
1

1/2

Not Rated
3

3/8

"
1

3/16

"
3

1/4

"
1

5/16

"
1

5/8

"
Yes
2,000
-20° to 190°
0000000
00000
000000
00
2"
51
1

1/2

Not Rated
3

3/8

"
1

3/16

"
3

1/4

"
1

5/16

"
1

5/8

"
Yes
2,000
-20° to 190°
0000000
00000
000000
00
2

1/4

"
57
__
Not Rated
4

3/4

"
1

3/16

"
4

3/8

"
1

13/16

"
1

5/8

"
Yes
2,000
-20° to 190°
0000000
00000
000000
00
2

3/8

"
60
2

Not Rated
4

3/4

"
1

3/16

"
4

3/8

"
1

13/16

"
1

5/8

"
Yes
2,000
-20° to 190°
0000000
00000
000000
00
2

1/2

"
64
2

Not Rated
4

3/4

"
1

3/16

"
4

3/8

"
1

13/16

"
1

5/8

"
Yes
2,000
-20° to 190°
0000000
00000
000000
00
2

7/8

"
73
2

1/2

Not Rated
4

3/4

"
1

3/16

"
4

3/8

"
1

13/16

"
1

5/8

"
Yes
2,000
-20° to 190°
0000000
00000
000000
00
3"
76
2

1/2

Not Rated
4

3/4

"
1

3/16

"
4

3/8

"
1

13/16

"
1

5/8

"
Yes
2,000
-20° to 190°
0000000
00000
000000
00
3

1/2

"
89
3

Not Rated
5

13/16

"
1

3/16

"
5

3/8

"
2

5/16

"
1

5/8

"
Yes
2,000
-20° to 190°
0000000
00000
000000
00
4"
102
3

1/2

Not Rated
5

13/16

"
1

3/16

"
5

3/8

"
2

5/16

"
1

5/8

"
Yes
2,000
-20° to 190°
0000000
00000
000000
00