Industry Designation

Industry Designation
Show
For Maximum Number of Devices

For Maximum
Number of Devices
Outlet Box Component

Outlet Box Component
DFARS (Defense Acquisition Regulations Supplement)

DFARS

(Defense

Acquisition
Regulations

Supplement)
Specifications Met

Specifications Met
Modular
Build-Your-Own

Wall Plates
Pair wall plates and adapters to create a custom cover for existing receptacles and switches to give them a rejuvenated look, no rewiring required.
Wall plates are paintable. 2-, 3-, and 4-gang wall plates accommodate multiple adapters. One or more of the gangs can be left empty to fit GFCI receptacles.
UL listed wall plates and adapters meet U.S. safety standards.
For technical drawings and 3-D models, click on a part number.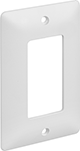 Wall Plate
For Maximum
Number of Devices
Industry
Designation
Height
Width
Material
Mounting
Fasteners Included
Specifications
Met
Each
4
4 Gang
4

3/4

"
8

3/8

"
White PVC Plastic
Yes
UL Listed

0000000
00000

Cable
Cover for
Cable Jack

Cable Cover for
Telephone
Jack

Outlet Cover

Rocker Switch Cover

Rotary Switch Cover

Switch
Cover
for Toggle

Toggle Switch Cover
For Maximum
Number of Devices
Telephone
Connection Type
Height
Width
Material
Specifications
Met
Each

Cable Cover for Cable Jack

1
__
4

1/16

"
1

1/2

"
White PVC Plastic
UL Listed

0000000
00000

Cable Cover for Telephone Jack

1
RJ11
4

1/16

"
1

1/2

"
White PVC Plastic
UL Listed

0000000
00000

Outlet Cover

2
__
2

5/8

"
1

5/16

"
White PVC Plastic
__
0000000
0000
2
__
4

1/16

"
1

1/2

"
White PVC Plastic
__
0000000
0000

Rocker Switch Cover

1
__
4

1/16

"
1

1/2

"
White PVC Plastic
UL-Listed
0000000
0000

Rotary Switch Cover

1
__
4

1/16

"
1

1/2

"
White PVC Plastic
UL Listed

0000000
0000

Switch Cover for Toggle

1
__
4

1/16

"
1

1/2

"
White PVC Plastic
UL Listed

0000000
0000

Toggle Switch Cover

1
__
4

1/16

"
1

1/2

"
White PVC Plastic
UL Listed

0000000
0000