How to

Identify and Measure Fittings
Pipe size is an industry designation, not the actual size. View information about how to measure threaded and unthreaded pipe and pipe fittings.
Flexible Kink Absorbers for Garden Hose
Maximum

Pressure:

120

psi @

72° F
Use these kink absorbers to ensure maximum water flow and extend the life of your garden hose. They connect between the hose and faucet to eliminate sharp hose bends that can cause kinking and hose damage.
Garden Hose
Trade Size
Thread
Type
Fitting
Material
Material
Color
Outer Coil
Material
Washer
Material

Lg.

Each

3/4

GHT

Zinc
PVC Plastic
Green
Steel
TPR Rubber
5

49/64

"
0000000
00000
Metal
Push-On

Barbed Hose Fittings for Air and Water
Fittings have sharper barbs than standard barbed hose fittings to grip rubber push-on hose with no clamps or ferrules required. The more you pull on the fittings, the tighter the hose will grip.
Brass fittings are softer than other metal fittings, so they're easier to thread together. They have good corrosion resistance.Fittings with a threaded end are also known as hose nipples.The optional installation tool (sold separately) allows you to connect large quantities of barbed fittings to push-on hose. Use the built-in cutter to squarely cut the hose without fraying. Then, clamp the hose into the tool's vise and apply light pressure on the handle to drive into the fitting.
Note: To ensure proper connection, the barbed end has to be pushed in all the way, with the hose end concealed by the ring.
For technical drawings and 3-D models, click on a part number.
Straight Adapters, Barbed Hose × GHT Male Threaded Hose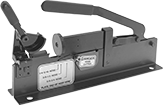 For Hose
ID Range

Lg.

Ht.

Dp.

Dia.

No.


of
Mounting
Fasteners Included
Each

1/4

" to

3/4

"
13

1/2

"
7"
2

3/8

"

7/16

"
4
No
00000000
0000000
Swivel
On/Off

Valves with Garden Hose Threads

Extend the life of your garden hose. This fitting swivels 360° to prevent the hose from kinking.
Max.


Pressure

Temp.


Range
Includes
Each

Brass

Not Rated
Not Rated
Washers
00000000
00000