How to

Identify and Measure Fittings
Pipe size is an industry designation, not the actual size. View information about how to measure threaded and unthreaded pipe and pipe fittings.
Metal Garden Hose Fittings
Connect these fittings to rubber or plastic garden hose for a variety of water supply applications.
Brass fittings have good corrosion resistance and are softer than other metal fittings, so they're easier to thread together.
Wye Adapters, GHT Female Threaded Hose × GHT Male Threaded Hose
Washers for Female GHT Threaded Connections
Wye-Shaped

On/Off

Valves with Garden Hose Threads


Four Outlets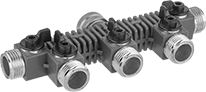 Five Outlets
Convert one faucet into two, four, or five convenient outlets. Each outlet has individually operated shutoff valves.
Plastic valves are lighter than brass or zinc valves, and are durable enough to hold up to impacts and abrasion. They have good corrosion resistance.
Zinc valves have good corrosion resistance. Some also have a TPR rubber or plastic coating to protect your hands—the coating keeps valves from getting hot in the sun or cold in the winter.
Brass valves are softer than zinc and plastic, so they're easier to thread together. They're also corrosion resistant.
Valves with flexible outlets are easy to install and help keep your hose from kinking.
No.

of
Outlets

Max.

Pressure

Temp.




Range,

°F

Includes
Each

Plastic

2
60 psi @ 100° F
35° to 100°
Washers
0000000
00000
4
60 psi @ 100° F
35° to 100°
Washers
0000000
00000

Zinc

2
60 psi @ 100° F
35° to 100°
Washers
0000000
0000
4
60 psi @ 100° F
35° to 100°
Washers
0000000
00000

Zinc with TPR Rubber Coating

2
60 psi @ 100° F
35° to 100°
Washers
0000000
0000
2
60 psi @ 100° F
35° to 100°
Washers, Flexible Hose Outlets
0000000
00000
4
60 psi @ 100° F
35° to 100°
Washers, Support Brace
0000000
00000

Zinc with Plastic Coating

5
60 psi @ 100° F
35° to 100°
Washers, Support Brace, Mounting Hardware
0000000
00000

Brass

2
60 psi @ 100° F
35° to 100°
Washers
0000000
00000
4
60 psi @ 100° F
35° to 100°
Washers
0000000
00000