Manufacturer Model Number

Manufacturer Model Number
DFARS (Defense Acquisition Regulations Supplement)

DFARS

(Defense

Acquisition

Regulations

Supplement)
REACH (Registration, Evaluation, Authorization and Restriction of Chemicals)

REACH

(Registration,




Evaluation,

Authorization
and Restriction of

Chemicals)
RoHS (Restriction of Hazardous Substances)

RoHS

(Restriction

of
Hazardous

Substances)
Mitutoyo Gauge Block Sets with Calibration Certificate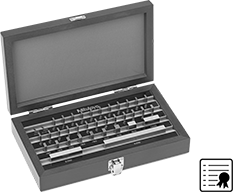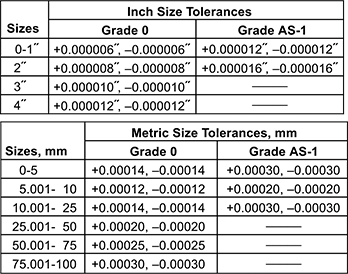 These sets come with a certificate of calibration traceable to NIST that states they've passed a test for accuracy. They're used for precision layout, machine setup, and producing close-tolerance dies and fixtures. Blocks are high-carbon, high-chrome steel and have excellent stability and resistance to thermal expansion.
Gauge blocks are classified by grade based on tolerance—the smaller the tolerance, the greater the accuracy. All blocks are individually numbered for recalibration at a later date.
Size refers to the distance between the block's two measuring surfaces.
For technical drawings and 3-D models, click on a part number.
Number
of
Pieces
Manufacturer
Model
Number
Includes
Material
Each
9
516-930-26
One block each in sizes 0.0625", 0.100", 0.125", 0.200", 0.250", 0.300", 0.500", 1.000", and 2.000"
Optical Flat
Steel
0000000
0000000
10
516-103-26
One block each in sizes 1, 1.25, 1.5, 2, 3, 5, 10, 15, 20, and 25 mm.
Steel
000000
000000
35
516-914-26
Nine blocks in sizes 0.1001" to 0.1009" in 0.0001" increments
Nine blocks in sizes 0.101" to 0.109" in 0.001" increments
One block each in sizes 0.200", 0.300", 0.500", 1.000", 2.000", and 4.000"
One block in size 0.10005"
Ten blocks in sizes 0.100" to 0.190" in 0.01" increments
Steel
0000000
00000000
81
516-902-26
19 blocks in sizes 0.050" to 0.950" in 0.05" increments
49 blocks in sizes 0.101" to 0.149" in 0.001" increments
Four blocks in sizes 1.000" to 4.000" in 1" increments
Nine blocks in sizes 0.1001" to 0.1009" in 0.0001" increments
Steel
0000000
00000000
87
516-946-26
19 blocks in sizes 0.5 to 9.5 mm in 0.5 mm increments
49 blocks in sizes 1.01 to 1.49 mm in 0.01 mm increments
Nine blocks in sizes 1.001 to 1.009 mm in 0.001 mm increments
Ten blocks in sizes 10 to 100 mm in 10 mm increments.
Steel
000000
00000000
9
516-931-26
One block each in sizes 0.0625", 0.100", 0.125", 0.200", 0.250", 0.300", 0.500", 1.000", and 2.000"
Optical Flat
Steel
0000000
000000
9
516-935-26
One block each in sizes 0.0625", 0.100", 0.125", 0.200", 0.250", 0.300", 0.500", 1.000", and 2.000"
Steel
0000000
000000
10
516-101-26
One block each in sizes 1, 1.25, 1.5, 2, 3, 5, 10, 15, 20, and 25 mm.
Steel
000000
000000