Belt Tension Gauges


For V-Belts,
Flat
Belts,
and
Round Belts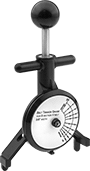 For A-Section
V-Belts,
B-Section
V-Belts,
and Timing Belts
Keep an eye on belt tension to minimize vibration, noise, and slippage.
Gauge for V-belts and gauges for V-belts, flat belts, and round belts are pocket-sized for measurements on the go.
Wide-Range

Belt Tension Gauges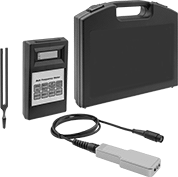 Measure belt tension up to 2,200 lbs. Position the sensor above your belt and pluck the belt like a guitar string to create vibration. Then, read the tension measurement on the display.
For
Belt
Type
For

Max.


Belt


Wd.

Pounds
Hertz
Newtons
Power
Source
Size
Number
Required
Included
Includes
Each
Flat, Round, V
Any
1-2,200
10-400
1-9,990
Battery
AA
4
Yes
Tuning Fork, Plastic Case
000000
000000000
V-Belt

and Pulley Trade Size Identifiers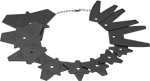 Measure V-belt cross sections and pulley groove depths to select the correct size belt. Individual pieces are connected with a ball chain.
For Belt Trade Size

For Use With

(No. of Pieces)

Material
Color
Each
3V, 5V, 8V, A, B, C, D, E

V-Belts (3), V-Belt Pulleys (8)
Plastic
Blue
0000000
000000
V-Belt

Trade Number Identifiers

Quickly determine the size of any belt.
For Belt
Trade Size

For Belt Trade
Number
Material
Color
Each
2L, 3L, 4L, 5L

2L170 to 2L1020
3L175 to 3L1040
4L185 to 4L1050
5L205 to 5L1070
Aluminum and Plastic
Orange
0000000
000000
ANSI Roller Chain
Wear-Indicating

Rulers

Place this plastic ruler on links to measure chain wear.
For Roller Chain Trade Size

Lg.

Wd.

Material
Each

For

Single-

and

Double-Strand

ANSI Roller Chain

40, 41, 50, 60, 80, 100, 120, 140, 160, 180, 200, 240, 40-2, 50-2, 60-2, 80-2, 100-2, 120-2, 140-2, 160-2, 180-2, 200-2, 240-2
15"
2

5/8

"
Plastic
000000
00000
ANSI Roller Chain
Wear-Indicating

Inserts

Place these steel inserts between two roller links. If they can be inserted past your ANSI number, the chain is worn out.
For Roller Chain Trade Size

Lg.

Wd.

Material
Each

For

Single-

and

Double-Strand

ANSI Roller Chain

35, 40, 41, 50, 60, 80, 100, 35-2, 40-2, 50-2, 60-2, 80-2, 100-2
8

3/4

"

5/8

"
Steel
000000
0000000
80, 100, 120, 140, 160, 180, 200, 240, 80-2, 100-2, 120-2, 140-2, 160-2, 180-2, 200-2, 240-2
18"
1

1/2

"
Steel
000000
000000