About Flowmeters and Totalizers
Flowmeters measure the rate of flow for a liquid or a gas. Totalizers measure the cumulative flow volume. Flowmeter/totalizers display both the flow rate and the cumulative flow volume.
Low-Pressure

Differential Gauges with

U-Tube
Also known as manometers, these gauges come with indicating liquid that moves up and down two columns—the difference in height between them is your pressure. They are commonly used to indicate clogged filters.
Magnet-mount gauges can be moved for use in multiple locations.
Brass Connection—(in. of H₂O)

For Use

With:

Air,

Argon,

Carbon

Dioxide,

and Hydrogen

Accuracy:

Not Rated

(Not

Graded)
Pressure

Range,




in.

of H₂O
Scale

Range,




in.

of H₂O
Numeric

Increments,




in.

of H₂O
Graduation


Marks,

in.


of H₂O

Max.




Pressure,


psi

Ht.

Gender
Mount
Type
Each

With Compression Tube Connection for

1/4"

Tube OD

0-8
4-0-4
1
0.1
100
20"
Female
Magnet
0000000
0000000
0-12
6-0-6
1
0.1
100
25"
Female
Magnet
0000000
000000
0-16
8-0-8
1
0.1
100
30"
Female
Magnet
0000000
000000
0-20
10-0-10
1
0.1
100
34"
Female
Magnet
0000000
000000
0-24
12-0-12
1
0.1
100
39"
Female
Magnet
0000000
000000
0-36
18-0-18
1
0.1
100
58"
Female
Magnet
0000000
000000
Air Sensors

for Differential Pressure

B

E
Use these sensors with differential pressure gauges and switches to measure the static pressure drop across air filters, cooling coils, and blowers in air-handling equipment. Install them in duct through a hole and connect to your gauge with tubing.
Sensors with pressure tubes give more accurate measurements in applications with high air flow.
For technical drawings and 3-D models, click on a part number.
Flow Transmitters for Air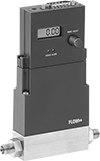 Calibrated for compressed air, these transmitters send flow-rate readings to data recorders, loggers, and displays. They have compression tube connections that bite down on hard metal and plastic tubing for a secure seal. The digital display shows the flow rate, so these transmitters can also be used as flowmeters. Fittings are 316 stainless steel for corrosion resistance in harsh environments.
Tube
Connections

End-to-End




Lg.

Flow
Range
Accuracy

Max.


Pressure

Temp.




Range,




°F

Seal
Material
Mounting
Orientation
Signal
Connection
Signal
Voltage
Plug
Type
Each

ABS Plastic Body with 316 Stainless Steel

Cubic Centimeters per Minute

Male Compression for

1/8

" Tube OD
4

7/8

"
1 to 50 cc/min.
±3%
150 psi @ 70° F
32° to 122°
Elastomer Rubber
Horizontal
RS-232 Port
4 to 20 mA
120V AC
240V AC
Two Prong
0000000
000000000
Male Compression for

1/8

" Tube OD
4

7/8

"
4 to 200 cc/min.
±3%
150 psi @ 70° F
32° to 122°
Elastomer Rubber
Horizontal
RS-232 Port
4 to 20 mA
120V AC
240V AC
Two Prong
0000000
00000000
Male Compression for

1/8

" Tube OD
4

7/8

"
10 to 500 cc/min.
±3%
150 psi @ 70° F
32° to 122°
Elastomer Rubber
Horizontal
RS-232 Port
4 to 20 mA
120V AC
240V AC
Two Prong
0000000
00000000

Liters per Minute

Male Compression for

1/8

" Tube OD
4

7/8

"
0.02 to 1 lpm
±3%
150 psi @ 70° F
32° to 122°
Elastomer Rubber
Horizontal
RS-232 Port
4 to 20 mA
120V AC
240V AC
Two Prong
0000000
00000000
Male Compression for

1/8

" Tube OD
4

7/8

"
0.1 to 5 lpm
±3%
150 psi @ 70° F
32° to 122°
Elastomer Rubber
Horizontal
RS-232 Port
4 to 20 mA
120V AC
240V AC
Two Prong
0000000
00000000