For Use With

For Use With
Show
For Use With

For Use With
Hide
Warning: Products have one, but not necessarily all, of the selected characteristics.
DFARS (Defense Acquisition Regulations Supplement)

DFARS

(Defense

Acquisition
Regulations

Supplement)
V-Belt

and Pulley Trade Size Identifiers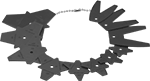 Measure V-belt cross sections and pulley groove depths to select the correct size belt. Individual pieces are connected with a ball chain.
For Belt
Trade
Size
For Use
With


(No. of Pieces)

Material
Color
Each
3V, 5V, 8V, A, B, C, D, E
V-Belts (3), V-Belt Pulleys (8)
Plastic
Blue
0000000
000000